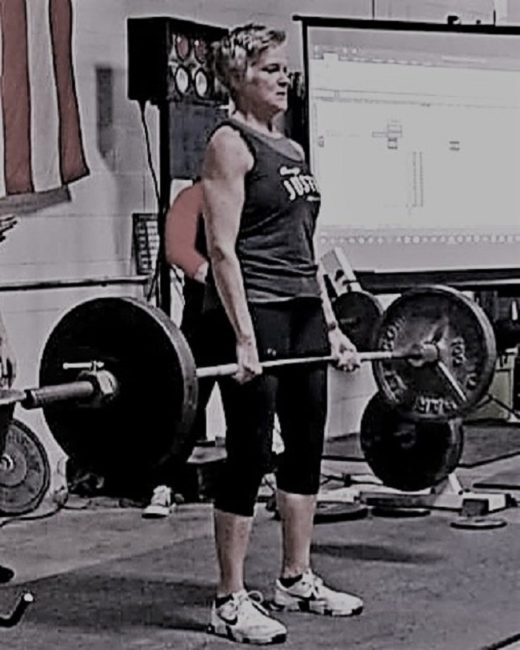 Where do you live?
Highland, MI
Deadlift PR:
275lbs official
Clean & Jerk PR:
100lbs Gym PR
How did you come to powerlifting or Olympic lifting?
Through Crossfit
Do you have any previous athletic or lifting experience?
No, however I've always been physically active.
Do you compete? Why or why not? If you compete, what do you like most about the competitions?
I've done two comps, one Crossfit all Masters with a podium finish 55 to 59 age group and one PL. I have one coming up in September which is a three person team Barbell Classic, Oly and PL, our combined age is 162. I love the camaraderie and being around like minded people. I also found out I like the competitive edge it brings out in me and to cheer on fellow athletes.
Do you have a coach or trainer? In person or online? How did you find your trainer/program? Do you have any advice for women looking for a trainer?
Crossfit coach during classes and Sunday Oly class which involves drills and working on one specific lift.
Where do you train? Gym, garage?
Crossfit Justice in Milford, MI
What is the hardest part about beginning lifting as an older woman?
For me it's accepting that I may never do heavy squats because of poor ankle mobility from arthritis in one ankle and tendon repair in the other. All my lifts are somewhat hindered from poor ankle mobility. Its a work in progress though and definitely has improved somewhat.
How has lifting affected your health?
In the short term it's more of a healthy mind, it's empowering to lift a 100lb barbell over your head or pull 255lbs for 5 reps at age 60. Long term I hope to stay physically active till I drop dead.
What would you tell women just beginning this journey?
Oh gosh, you must try it, commit, stick to it and you will be so enlightened at what your body can do as you age. You will gain confidence in all aspects of your life.