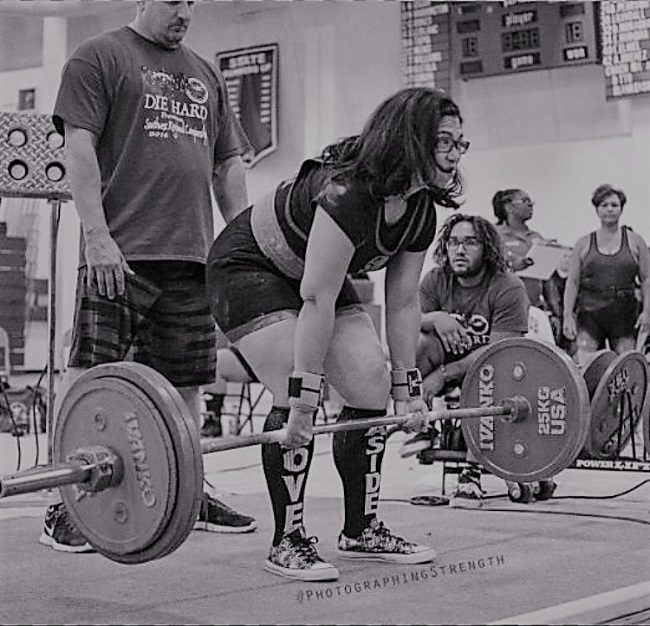 Squat PR:
275 lb, USAPL Southwest Regionals 8/18
Bench PR:
144 lb USAPL state record 12/9/18
Deadlift PR:
358 lb USPA 5/2016 meet
How did you come to powerlifting or Olympic lifting?
I have lost 100 lbs. Powerlifting moves were introduced into my weight loss program and I did my first meet 11/2014 and got a record in USPF for my deadlift. I have been competing since then. I have lifted in USPF, USPA, AAU, and USAPL feds. I have gone to nationals in USPA and got a National record deadlift in 165 lb weight class 6/2016 and IPL world record in same meet.
Do you have any previous athletic or lifting experience?
I was not an athlete until I became a competitive powerlifter.
Do you compete? Why or why not? If you compete, what do you like most about the competitions?
I have competed since 2014. I was 50 years old. I love everything about the process to train for competition. It focuses everything I do for that test on the powerlifting platform on meet day.
Do you have a coach or trainer? In person or online? How did you find your trainer/program? Do you have any advice for women looking for a trainer?
I have a trainer/coach. He is local and we train in person. He has also competed nationally. My advice is to visit powerlifting gyms in your town and talk to the trainers in person to see if they suit your needs.
Where do you train? Gym, garage?
My trainer owns the gym where I train.
What is the hardest part about beginning lifting as an older woman?
It was not hard to start as it was introduced as part of my fitness. I think the mindset can be the hardest thing. Do not let anyone tell you that you do not belong in the powerlifting world.
How has lifting affected your health?
I lost 100 lbs and became a Powerlifting athlete. I am stronger at age 55 than I was at age 25.
What would you tell women just beginning this journey?
You belong in this world and you can do anything you set your mind to. I suggest getting a powerlifting professional to train you. It is worth the investment