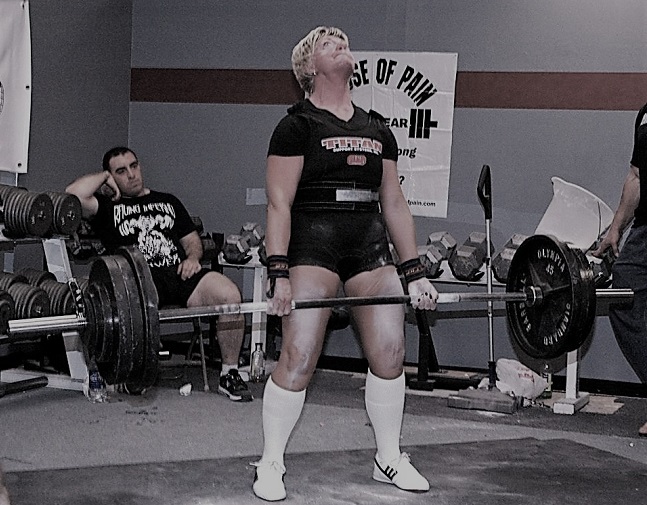 Where do you live?
Mesa, AZ
Squat PR:
250 lbs AZ senior Olympics. 210lbs NASA
Bench PR:
240 lbs in training, 214.7 lbs WABDL competition age 61-67
Deadlift PR:
341.5 lbs WABDL world record age 61-67. PR 350 lbs.
How did you come to powerlifting or Olympic lifting?
I lost 40 lbs and ended up with loose wrinkly skin and asked husband what I could do about it. He said I had a choice of fat or muscle so I went the muscle route with weightlifting. It took only a week before I noticed the wrinkles had disappeared and I was showing a visible bicep. That was all it took and I was hooked!
Do you have any previous athletic or lifting experience?
I had been working out for a couple years and it was recommended by a friend that I try competing in senior Olympics. Looked into powerlifting and went to a meet to see what it was all about. I determined that I could do this easy and signed up for a NASA competition and did well. Competed in 2 organizations (NASA & WABDL) for several years in addition to the Arizona senior Olympics. Took 1st place in all meets except 1, came in second to a 30 year old in the open category. Have 54 trophies, medals and awards in state, national and world competitions.
Do you compete? Why or why not? If you compete, what do you like most about the competitions?
I am no longer able to compete, it ended in 2012 when I was diagnosed with breast cancer and was unable to do any serious workouts for a full year due to a double mastectomy along with reconstruction surgeries. About the same time I also developed trigeminal neuralgia which is nerve pain associated with MS that is comparable to being tasered in the face. The slightest amount of exercise would cause the nerves to fire and I quickly determined that gym time was no longer my friend. I have had several surgeries to attempt to correct the problem but none has worked and I now have a numb face along with the nerve pains. When I was competing I absolutely loved it! Everyone is so friendly and helpful and there is nothing like giving it your all and besting yourself.
Do you have a coach or trainer? In person or online? How did you find your trainer/program? Do you have any advice for women looking for a trainer?
I have had all types of trainers. My husband is primarily my coach but for meet preparation I worked with some of the best trainers in the country. I found them mostly by word of mouth but some I found at meets and asked if they would help me to improve. My advice for finding a trainer is to first determine what you want to do. Do you want to be the best there is or just compete for the fun of it. Trainers are expensive and the best ones you probably can't afford. Unless they really like you and think you have potential.
Where do you train? Gym, garage?
I did most of my serious training in a gym, used various ones around the Phoenix area. Also had my own equipment at home.
What is the hardest part about beginning lifting as an older woman?
Getting up the courage to wear the required clothes and do it in public. And there is always the nerves just before a meet but they always disappeared after my first lift. Also, training by yourself can be extremely difficult because you pretty much don't have a clue plus you really need someone to push you to do better and just show up for training. I was fortunate in this regard as my husband accompanied me to all my training sessions as well as all the competitions. Most women I know that want to try just don't have a support system.
How has lifting affected your health?
Lifting gave me a new lease on life, before I started I had sever back problems where I could barely stand up from a chair due to a herniated disk. My early days in the gym were spent working on my back muscles which strengthened to the point that they were supporting my spine better and I no longer had back pains. I have had numerous health issues as I have gotten older and none of them were caused by my powerlifting. It did, however, exasperated them to the point that I have had to completely give up my training and competing.
What would you tell women just beginning this journey?
One thing I have heard women complaining about is "I don't want to get big or bulky". I can guarantee you will not get any bigger or bulkier than you want. I didn't want to grow muscles either but when I first started to show some noticeable bicep I thought, cool! Lets see how big this thing can get!
And yes, get yourself a trainer!!