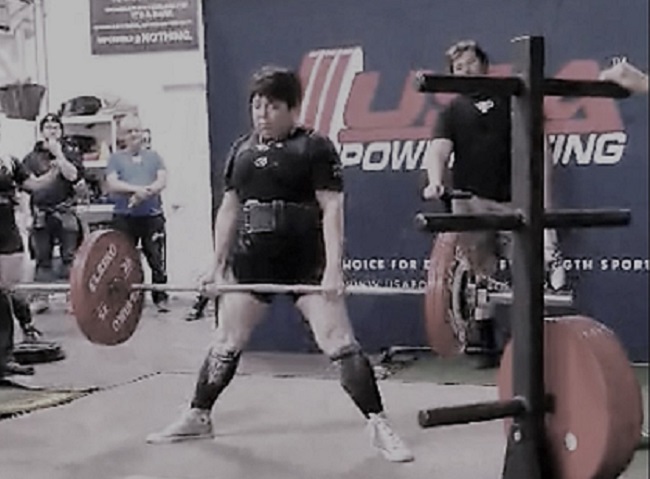 Where do you live?
Hales Corners, Wisconsin (Milwaukee)
Deadlift PR:
308# official
How did you come to powerlifting or Olympic lifting?
I watched my oldest daughter compete during the course of the last few years. I could see how excited she was and how her body comp changed. And WOW! Was she ever strong! I was intrigued and curious, but first I just started working with her first trainer,  just to get in shape again. Menopause was doing a number on my body and my mental health. Severe asthma and a heart condition puts a bit of a damper on heavy cardio workouts. When Tim asked me if I'd like to give the three big lifts a try…. I was game. I was hooked from the moment I benched for the first time! Squat – not so much!
Deadlift – a big yes!
Do you have any previous athletic or lifting experience?
I was a fair athlete as a kid – mostly track where I was a short track sprinter and a hurdler. A car accident resulting in the early birth of my youngest daughter blew out 3 discs in my low back at age 35. We moved overseas within months of her birth and I never really recovered. In spite of a bad back, crappy lungs and an as yet undiagnosed heart condition, I earned my 1st Degree Blackbelt in TaeKwonDo at 45 after five grueling years. I loved it – and still miss practicing and competing – but it took a toll on my body and my checkbook. I have pretty much always belonged to a commercial gym where I would take all sorts of classes, especially as the weight started to creep up. But nothing speaks to me like weightlifting, though I'd be interested in CrossFit, I suppose. My back has never been better thanks to heavy lifting! But my lungs and heart are still a problem.
Do you compete? Why or why not? If you compete, what do you like most about the competitions?
I'm competitive by nature and know that I need competition to help me set goals. I had a great second meet in December of 2019 and qualified for raw nationals in 2020. The atmosphere exudes positivity! Nobody cares what you look like! Everybody wants everyone else to succeed. Besides, like TaeKwonDo testing or tournaments, competition is the only time you really get to see what you can do – it's a chance to go for broke! My goals are to break the Wisconsin squat and deadlift records in my age/weight class. I currently own the state bench record. I'm trying to drop a weight class by June. My daughter now competes equipped and is trying to rope me into that. I don't think so! But never say never. I'd love to try equipped bench!
Do you have a coach or trainer? In person or online? How did you find your trainer/program? Do you have any advice for women looking for a trainer?
I have a great younger trainer with whom I work twice a week. He programs a third day for me to do on my own. While he is just 30 years old, he's been lifting for a long time, played college football and competes as well. He is a personal trainer at a small gym and has a number of clients 40 and up. My big thing is staying injury- free. He is watchful of my form and holds me accountable for it – holding me back when necessary. I wouldn't be doing this without him, though I admire those who do it on their own entirely. I only recently became comfortable squatting in the 200s on my own! He writes programming for a lot of folks.
Where do you train? Gym, garage?
I train at a smallish gym and only do accessory work at a big commercial gym even though they have really nice equipment. The big gym and it's bro-zone frowns on things like chalk and plates banging, so I don't do my big lifts there. I also don't like being stalked by guys who think I need help cuz I'm a girl…well, old lady.
What is the hardest part about beginning lifting as an older woman?
I believe the hardest part is getting into the gym, asking for help and believing we are capable. I watch a lot of videos and read a lot about technique and the sport in general. The more you know, the more confident you feel. I think a lot of this lifting heavy stuff is a head game. I know I'm capable of a lot, but sometimes I need to get out of my comfort zone to truly realize my potential.
How has lifting affected your health?
I battle depression and body dysmorphia – and have for decades. In spite of medical treatment, I struggle mightily some days. Lifting heavy is empowering. My body can do amazing things! Powerlifting – working out hard in general – gets me out of my head and into my life. It helps me set goals, gives me an outlet for my angst, and enables me to thrive where some of my friends struggle physically. I still need and want to lose weight to live a healthier life, but being strong trumps my need to be so thin again. That has been a revelation. Plus, I watch so many older ladies struggle with every day activities like lifting groceries, mowing the lawn, shoveling the driveway etc. and I know that won't be me. I also have to help my 88-year-old mom and am blessed to live so close by to do so. But my four daughters are quite likely NOT going to live nearby as I age. I want to live as independently as possible for as long as possible. I don't even like to ask my husband for help!
What would you tell women just beginning this journey?
Try it. Any lifting is better than no lifting. You don't need to compete to engage in the process of building strength. Strength of body leads to strength of mind.