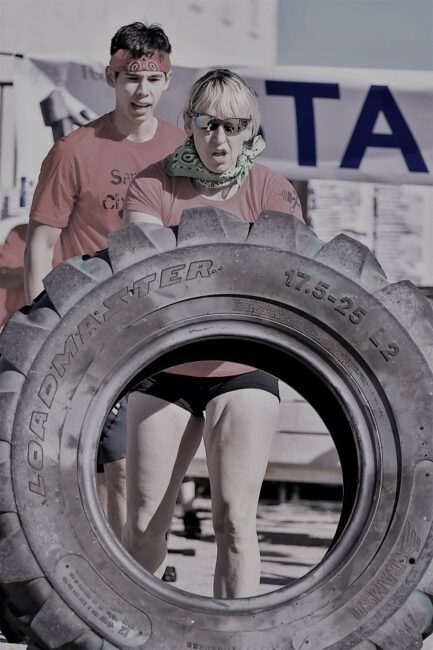 Weight Class
165 or 181 depending on my discipline 😉
Where do you live?
New Mexico
Deadlift PR:
359 lbs — meet
How did you come to powerlifting or Olympic lifting?
I used to do endurance sports and I was TERRIBLE at them. I worked with a trainer who worked with endurance athletes and I was the slowest one, but I was also the strongest. I wasn't sure how much being the strongest person in a group of endurance athletes really meant, so I wanted to try to compete. I was very fortunate to meet someone who had competed at a very high level years ago, and she trained me for my first meet.
Do you have any previous athletic or lifting experience?
Endurance sports — marathons and a few triathlons.
Do you compete? Why or why not? If you compete, what do you like most about the competitions?
I compete in strongman and powerlifting. I like having a goal to focus on, and I also believe that everyone should occasionally do things that scare you a lot (competing terrifies me, no matter how much I do it). It is those things that make you feel more alive
Do you have a coach or trainer? In person or online? How did you find your trainer/program? Do you have any advice for women looking for a trainer?
I work with a coach who owns his own gym, although I am a coach there too, so I program for myself. But I go to him if I need help.
Where do you train? Gym, garage?
Gym
What is the hardest part about beginning lifting as an older woman?
It is super frustrating seeing young people who have been lifting only a year or two rapidly beat my numbers. Kind of cool seeing them get excited though.
How has lifting affected your health?
No more back pain. In my 20s, my desk job would leave me with occasional tired and painful back. Not now. Also, although I should be a lot better with my diet, I mostly stay within a reasonable weight range due to my lifting.
What would you tell women just beginning this journey?
You're never too old and you're never too weak. None of us are going to make money or get famous from this, so we are all in it to better ourselves, regardless of how much we lift. You will do more then you ever thought possible, and when you do it, be damn proud of your accomplishments, even if you think you aren't as strong as others.
Include your Instagram (optional)
@strongman_sonja