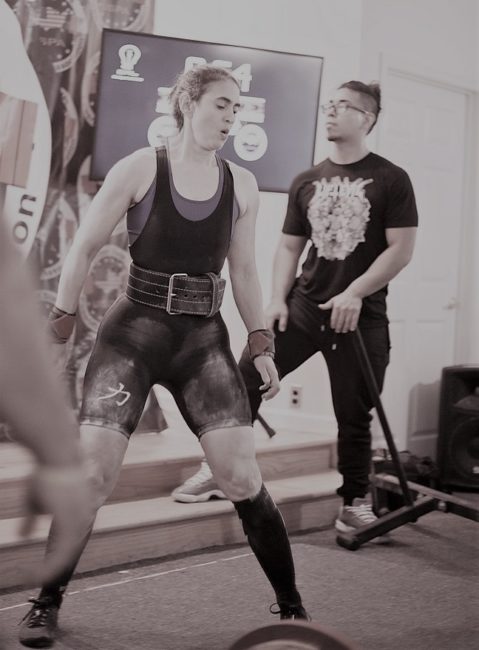 Weight Class
132 lbs / 60 kg
Years powerlifting?
5

How did you come to powerlifting?
I started out, as many women do, lifting for aesthetic purposes in mid-2015: I wanted to "tone up." Happily, I started with a program that incorporated a lot of barbell work and compound lifts, and over time I really started falling in love with those lifts. I started following powerlifters on Instagram, then attended an Iron Sisters weekend camp where I got the chance to learn from three of the top female lifters in the world. Then I attended my first meet and was completely hooked. The energy in the room and the strength of some of the women competing was beyond inspiring to me.

I did my first meet in November of 2017 and since then have won gold and silver at IPL Drug-tested Worlds (2021 and 2019), gold and silver at USPA Drug-tested Nationals (2019, 2020 and 2022),  set two IPL Drug-tested World records, a USPA Drug-tested national record and numerous Vermont state records. I'm also a USPA National referee as well as USPA Vermont Records Chair.
Do you have any previous athletic or lifting experience?
I was a hard-working but very mediocre high school athlete. I do remember that I spent a little time in the school weight room and really enjoyed it every time. But I suffered a number of knee injuries during high school, and had all kinds of back and neck problems (nearly all of which have cleared up since i started lifting heavy!) so basically I did nothing to take care of my body for more than 20 years. Then I found Zumba in my early 40s and that's what launched me on my current fitness journey.
Do you compete? Why or why not? If you compete, what do you like most about the competitions?
Yes, I love competing. I love challenging myself to do better, and knowing that when I've performed well, I've done so by meeting objective standards (I squatted to depth, I paused my bench press, I locked out my deadlift).

But by far the best thing about competing has been getting to know people in the powerlifting community, and the mutual support and friendship that I have seen transcend age, gender, and race/nationality. It is one of the most amazing, friendly communities I've ever encountered.
Do you have a coach or trainer? In person or online? How did you find your trainer/program? Do you have any advice for women looking for a trainer?
Yes, I have a wonderful online coach. Make sure your coach or trainer really knows their stuff. If a coach, look at who their clients are. And make sure they are responsive and will take your age into account, be mindful of our age group's particular training and recovery needs, etc.
Where do you train? Gym, garage?
Gyms whenever possible because I much prefer to be around other people, but I also train at home one day a week.
What is the hardest part about beginning lifting as an older woman?
Probably the hardest thing for me is feeling weak when I compare myself to younger lifters, and to older women who have been lifting for 20 years or more and had all of that time to build up their muscle base and strength. I have to remind myself constantly not to compare myself to others, but only to my past self, and to trust the process and stay focused on my goals.
How has lifting affected your health?
I have never been healthier or stronger than I am right now, at age 54. Not only has the lifting itself made me stronger and helped me with back and neck problems, but now I also eat more consciously. I don't drink, and I actively try to get more sleep, all to support my training and muscle growth.
What would you tell women just beginning this journey?
I have been very lucky – I have not found it difficult. I've had great support from my family, from friends, and from people in the gym. But I know that's not the case for everyone. Remember who you are and be your authentic self. Be comfortable in your own skin. Don't worry about comparing yourself to other people. Just do you.

And understand that people in the gym are there for themselves – they are not judging you (and if they are, they are thinking how amazing and cool it is that an older woman is doing what you're doing). Make sure your nutrition is on point (sufficient protein and carbs to fuel your training) and that you are getting enough recovery time and sleep. Do mobility work. And don't ignore injuries – the PT is your best friend. 🙂
Bio updated: June 2022.