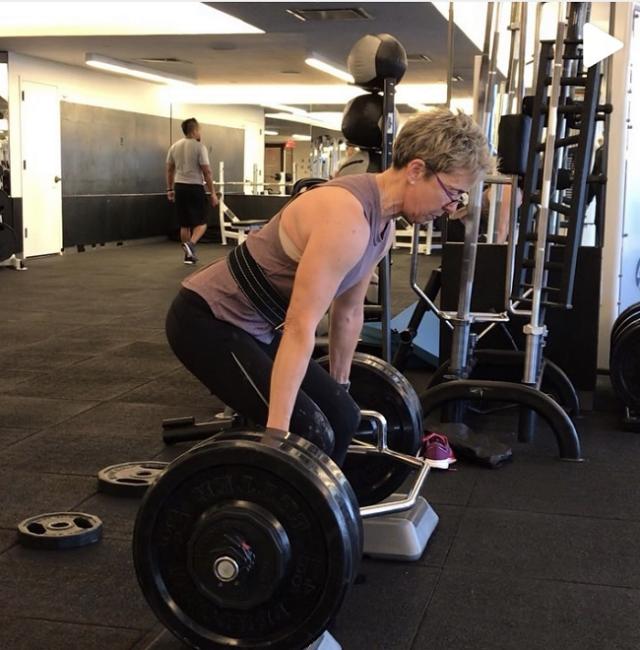 I used to live in Tampa. I was diagnosed with Stage 0 Breast Cancer in 2010 and had surgery, radiation, and was put on Tamoxifen. I was 59 years old. My doctor at the Susan Cheek Needler Center for Breast Care won a grant, and she used it to start a program for women recovering from the effects of the surgery and radiation. Pairs of women with similar conditions were matched with a trainer for six weeks, for free! We worked to break up scar tissue and regain mobility and upper body strength.
I had so much fun, that when the program was over, I went to find a gym and a trainer. I found a beautiful ex-bodybuilder whose looks could stop traffic, and whose manner could train Marines. At first, I wanted to be 'toned' (shows you how little I knew). We did strength training, Pilates, resistance work, even 'flipped' the old tire. I was hooked! Even went to Spin Class on weekends.
I moved to Manhattan almost two years later, and went looking for a gym. The first one that didn't smell bad was Equinox, and I joined. Didn't know how fancy it was, and at the time it wasn't inordinately expensive. I asked for a trainer who could work with someone with a bad knee (from Karate), but who wasn't handicapped. I like to say 'and they gave me Chris'. We've been working together for almost 12 years.
Chris Szefler is my powerlifting coach and my mentor. We've been through a car accident, loss, and major events like my retirement. Still, we continue. I even became certified in Precision Nutrition.
I've competed twice in Figure. Both times, I was the oldest in the entire competition. We continue to work together three times a week. I also box twice a week with another 'moving mountain', my Coach, Danny Gomez. I also work out at home with all the apparatus I've acquired over the years.
My bad knee limits what I can do – it's bone on bone in part, but my goal, and my orthopedist's goal, is to keep it 'original'. I have to limit the angle of my knee, but we still manage to progress, gain strength, and always have fun. For 'life', I'm a fine lifter – I know how to lift a case of water and anything else that comes my way. My PR for trapbar off small boxes is 245lbs and 235lbs with rack pull from knee height. I'm 5'6'´ and 119lbs. I'm now 72 and still look forward to working hard five days a week.
Yes, the gym is my life. It saved me in bad times, like excruciating loss. I even worked out while in a cast for 3 1/2 months from a car accident (fractured ankle and degloving injury). I love encouraging other women and I think I've helped a few of my friends learn what they can accomplish. I joke that Chris can write a book on training older women, through all the (mis)adventures with me. We're looking forward to the future.