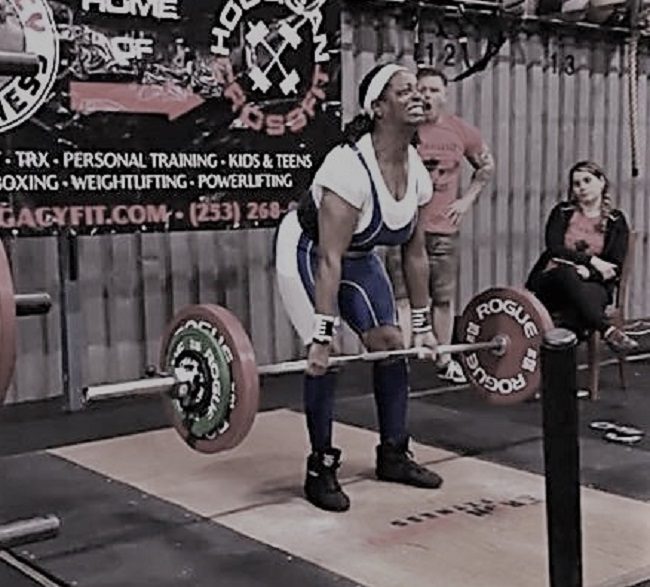 Name

Carolyn Fire Williams
How did you come to powerlifting or Olympic lifting?
I have been wanting to powerlift for about 15 years now! But I was always being side track from something! Job ext… obviously it just want my time. So I finally went to Seattle, where the coach who is a legend in raw powerlifting, Bull Stewart, and told him I will like to be a powerlifter. And that was it! Then I train for Olympic weightlifting. I enjoy powerlifting more.

Do you have any previous athletic or lifting experience?
I am no stranger to the gym.
I always lifted in the gym, here and there
Do you compete? Why or why not? If you compete, what do you like most about the competitions?
I do compete now. I love to compete because you can meet a lot of strong beautiful women, young , older and even children, once you get on that platform it's no turning back, I love the feeling.
Do you have a coach or trainer? In person or online? How did you find your trainer/program? Do you have any advice for women looking for a trainer?
My coach is Bull Stewart, once the strongest raw, pound for pound, man in the world! I am just lucky he lives in Seattle WA.
Where do you train? Gym, garage?
I train at Columbia fitness center in Seattle, Washington.
What is the hardest part about beginning lifting as an older woman?
So far I am pretty lucky. Thank god.
Right now there is nothing hard about beginning lifting as a older women, due to the fact I always went to the gym, and lift a little heavy, that helped a lot.
How has lifting affected your health?
I feel strong. I do walk with a little pep in my step, my body feels great!
I use to walk a little bent over, if I still do, nobody told me.

What would you tell women just beginning this journey?
Take your time, don't try to be a champion in a month. If you're going to compete, let your body adjust to the changes, and it will pay off. If you believe, you will achieve, but you must put the work in.