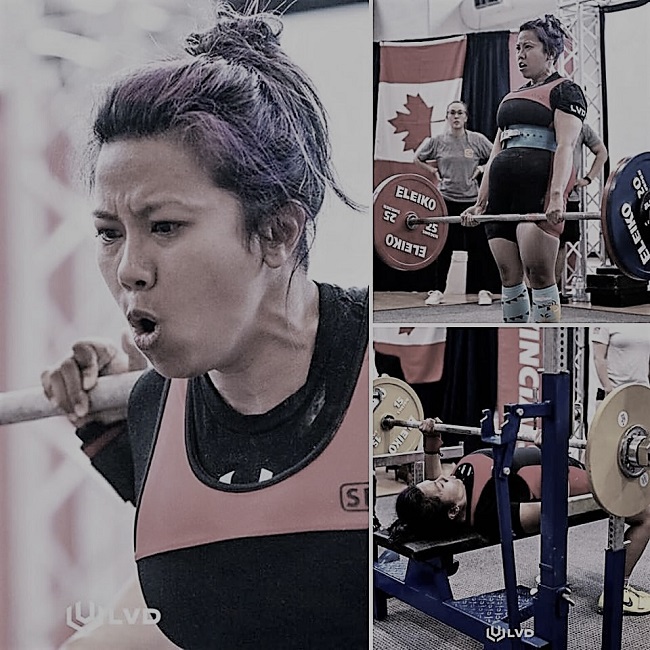 Where do you live?
Vancouver, BC, Canada
Squat PR:
102.5kg / 226lb (official)
Bench PR:
62.5kg / 137.8lb (official)
Deadlift PR:
130kg / 286.6lb (official)
How did you come to powerlifting or Olympic lifting?
I got injured after training for and running a marathon, and needed some sort of exercise to do while recuperating. Found myself at the gym and starting weight training with the machines and dumbbells, but knew of folks online that trained for powerlifting. Got curious, and looked up you tube videos for form, got help from the community centre gym staff to make sure I was using the equipment properly, and started a little bit at a time. Started seeing some gains and really enjoyed the prospect of getting stronger, and seeing my efforts turn into progress. I got it in my head that I would like to try doing a powerlifting meet, at least once, just to set a goal for myself. I love a challenge! Found a coach to help me tighten up my form and do up programming for me. Did my first meet in 2017 and loved the experience and the community. Never looked back.
Do you have any previous athletic or lifting experience?
Nope. I have more of an endurance sport background, when not being a couch potato. Spent years doing outrigger and dragonboat paddling, then running (did several 10k's and two marathons).
Do you compete? Why or why not? If you compete, what do you like most about the competitions?
Yes! I love competing! Being surrounded by other incredibly strong people all sharing and supporting you and your goals is such an amazing experience. I was really intimidated starting out, but really enjoyed the camaraderie and inspiration. I also love having a goal to work towards, and competitions give me something to strive for.
Do you have a coach or trainer? In person or online? How did you find your trainer/program? Do you have any advice for women looking for a trainer?
I have an in-person coach. He sends me programming and checks in online, but I also do occasional personal training sessions with him to work on form.
I found this coach through word of mouth. There were other local athletes that are coached by him that have recommended him. I also follow him and other potential coaches on Instagram and I really liked his style and how he represents himself. I also like and appreciate that he competes in powerlifting as well. This was important to me as I feel you can better coach if you've been in the athlete's position yourself. Anyone else looking for a trainer – same advice! Word of mouth, look at their experience, but also meet them in person (or ask them questions online, if you're pursuing online training/coaching/programming). Another important piece is how well you get along with them and whether you feel listened to and respected!
Where do you train? Gym, garage?
I train out of my basement. Picked up some equipment off Craigslist. Prior to that, I trained at a community centre gym that was near my office. After moving offices, I needed somewhere to train that was affordable, but there were no feasible options so I found a solution that worked. Whenever I have personal training sessions with my coach, we work out of The Bar in Vancouver.
What is the hardest part about beginning lifting as an older woman?
Not being able to recover as easily, or build strength/muscle as quickly.
How has lifting affected your health?
I'm so much stronger than I ever was before. My cardio level may not be where it once was, but I'm certainly stronger! I'm more mindful of my nutrition now. Taking more supplements and vitamins, and tracking what I eat and when. Now that food is fuel, I'm making better decisions about what I eat (but still indulging now and then!)
Mentally, lifting has been an amazing benefit. There's the endorphin rush of physical exertion, but there's also the experience of seeing a challenge, taking what seems impossible to move and pushing/grinding through to stand back up when things get heavy… That's done wonders for changing my perspective on life and all its stressors.
What would you tell women just beginning this journey?
Lifting is cool. Being strong is cool. And sexy!! It can be scary, but so rewarding. There are also many cool new friends you can make when you enter the wonderful world of lifting!!