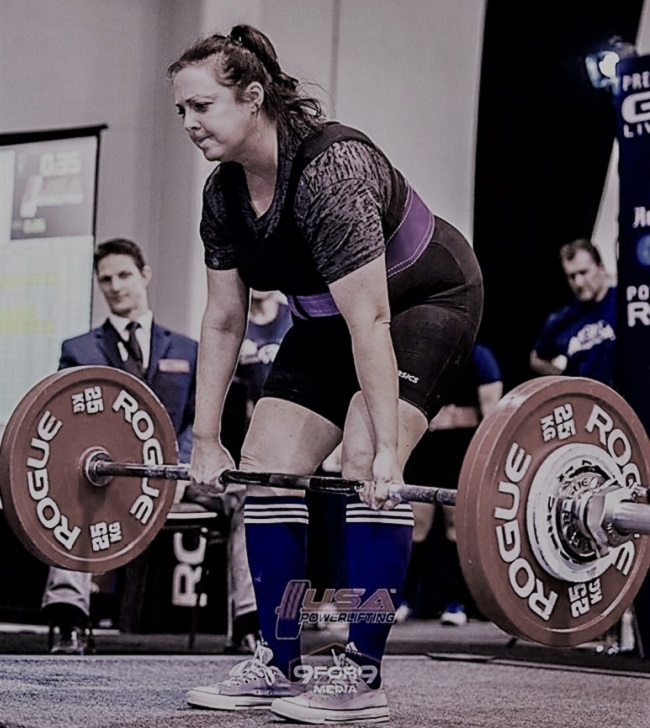 How did you come to powerlifting or olympic lifting?
I train at a gym where strength programs are designed and written about every six weeks. I enjoyed seeing my progress and then asked to compete in Powerlifting when I felt like I had decent numbers to compete.
Do you have any previous athletic or lifting experience?
I have trained in gyms and with trainers for a long time but I had never learned Powerlifting. Squat, bench and deadlifts were all new to me and it was fun.
As for athletic experience it seem so long ago but I did dance (hip hop and jazz) and do gymnastics as a young person.
Do you compete? Why or why not? If you compete, what do you like most about the competitions?
I do compete twice a year. I started in 2014 and then this year I actually competed three times and it was a bit too much and I got Injured before Raw Nationals which was my third comp for 2018. So ten comps so far.
Do you have a coach or trainer? In person or online? How did you find your trainer/program? Do you have any advice for women looking for a trainer?
I do have a coach at my gym. It is helpful to have a trainer who know about Powerlifting or lifting in general. Also—if they know how to write programs that is a huge bonus.
Where do you train? Gym, garage?
I train at Results Fitness owned by Alwyn and Rachel Cosgrove.
What is the hardest part about beginning lifting as an older woman?
The older I get the longer it takes for my body to recover. I am thankful that I am at a gym that knows about writing Powerlifting programs and I am thankful for my rest and recovery days.
How has lifting affected your health?
I am so much stronger and more confident. I walk with better posture and feel so much better.
What would you tell women just beginning this journey?
Be patient with your progress. It takes time to get stronger and it happens as you keep at it. You will surprise yourself with how strong you are.