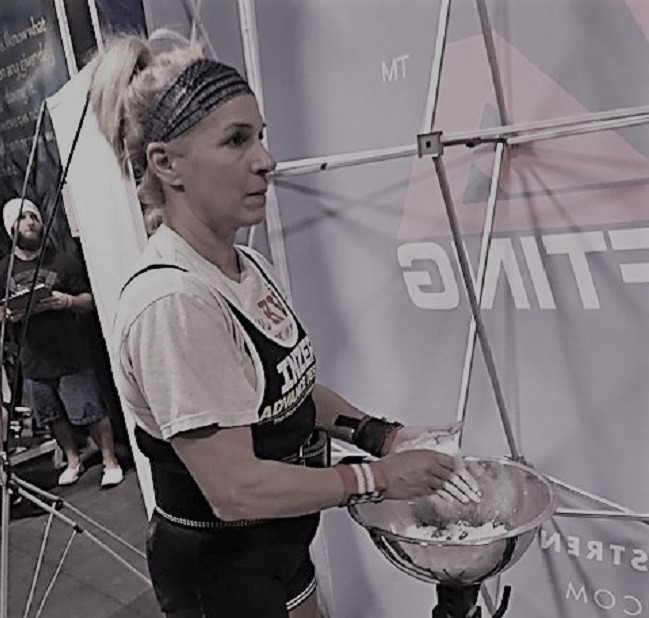 Years lifting?
In powerlifting 2 1/2, weightlifting over 40 years
How did you come to powerlifting or Olympic lifting?
I have always loved lifting weights and a guy I was training with from a barbell club suggested to go for it…so I did!
Do you have any previous athletic or lifting experience?
Played sports since 4th grade all year long: Field hockey, Basketball and Softball. I was blessed to be on a State and National Teams in field hockey and an All American with a few records. I sucked at basketball, but played because that was available and made sure I got my 5 fouls in each game! Loved softball-as a leftie I always had over a 600 average because I could drag bunt and was fast.
Do you compete? Why or why not? If you compete, what do you like most about the competitions?
Love competing…being around the athletes of various age groups and weight classes, male and females warming up together and helping each other out, and the spirit of cheering each other on. I have never experienced being overlooked because I am older and a woman…I simply would not allow it:)
Do you have a coach or trainer? In person or online? How did you find your trainer/program? Do you have any advice for women looking for a trainer?
I have had 2 different trainers…both unique and different in style and programming. In-person, but since COVID -online. I became certified USPA coach 2 years ago and have trained/programmed 3 high school athletes to compete. My advice would be to ask around, interview a coach who is certified in powerlifting and get references.
Where do you train? Gym, garage?
At a gym, home, school, field.
What is the hardest part about beginning lifting as an older woman?
I personally didn't find a hardest part…when you are grateful for good health and able to lift heavy shit correctly…it's all a bonus! I think for most older women, they have very little strength to begin with because they did not develop it over the years. Look at strength training as a lifelong journey and slowly, no matter what age, you will gain some muscle strength back. I also think a lot of women find weightlifting/BW exercises boring…so they quit or never start, That's a real shame in my opinion because there is so much diversity in strength training.
And please ladies…NO ONE is looking at you working out…they are looking at themselves in the mirror…don't let fear be your obstacle! Embrace getting older in mind, body and spirit!
How has lifting affected your health?
I am told by my doctor, health professionals, and most of my friends, I am a freak: Bone Density of someone in their 20s, BF% 20, muscle mass over 60, over 70% water composition, visceral fat low, age equivalent to a healthy 30 year old female. I am so grateful, blessed and humbled.
What would you tell women just beginning this journey?
To begin it!!…be accountable to you…always make time to train minimally 3x a week. Make the time- NO EXCUSES. Compete. Also, do yoga 4x a week. I find Yin best before I train and after.
Look …we are old bags looking for a good time…PL is a game changer! It is a journey to look forward to everyday.