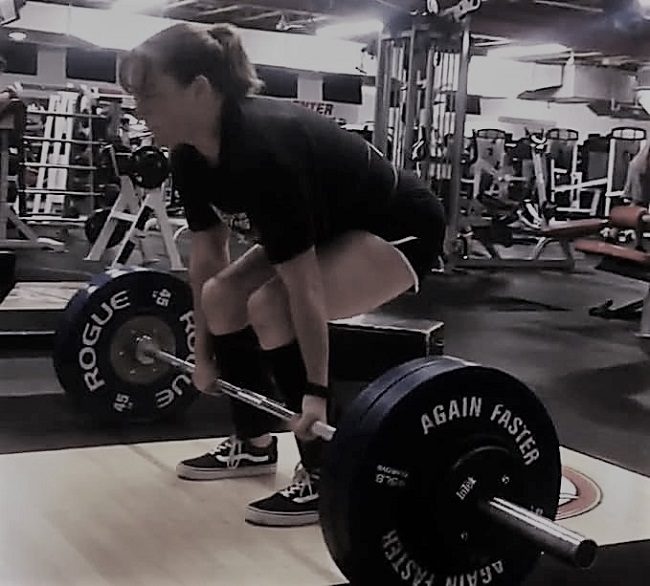 Where do you live?
Connecticut
Squat PR:
105 kg official
Bench PR:
62.5 kg official
Deadlift PR:
137.5 kg official
Years lifting?
Less than 1
How did you come to powerlifting or Olympic lifting?
I started doing machine lifting to lose weight, and I did, but soon grew bored. I asked my trainer if we could move to free weights, and I got hooked.
Do you have any previous athletic or lifting experience?
I played baseball and softball as a kid. I still play softball.
Do you compete? Why or why not? If you compete, what do you like most about the competitions?
Yes I compete. I love the adrenaline on meet day, the supportive lifting community, and seeing how the work has progressed.
Do you have a coach or trainer? In person or online? How did you find your trainer/program? Do you have any advice for women looking for a trainer?
I have a trainer an hour away. I send him lifting videos daily and we work together in person when my schedule allows for it. If I don't send him a video or my numbers, he will contact me for them. He also came to my meet and handled everything.My advice is to find someone who is an active partner in your journey. You are paying for their services, so make sure they keep their promises.
Where do you train? Gym, garage?
I train at Super Future Fitness in North Windham, CT, and in my trainer's home gym.
What is the hardest part about beginning lifting as an older woman?
First, it was hard to schedule the time to lift, then it was having people take me seriously. Those problems have been resolved. My more recent issues revolve around balancing 2 sports.
How has lifting affected your health?
I have lost 30 lbs, my blood pressure is back to normal, and I feel physically and mentally amazing.
What would you tell women just beginning this journey?
Stay with it, trust the process, don't let other people get in your head and say you can't. It hurts sometimes, but that goes away, and you'll feel better in the long run. Lastly, get a real trainer.