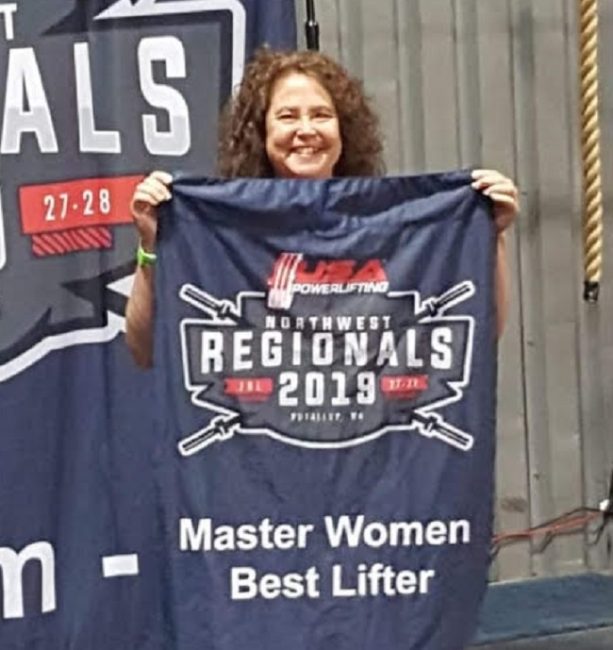 Name

Lynne "The Lion" Richards
Where do you live?
Spokane, Wa.
Squat PR:
280lbs Training PB
Bench PR:
165lbs Training PB
Deadlift PR:
315lbs Training PB
How did you come to powerlifting or Olympic lifting?
Competitive Usapl powerlifter for 6 years. However I've been lifting since I was 18 years old and a trainer for 30+ years. I've been certified thru ISSA, NASM CPT, NASM CES, APEX etc. Continuing education courses, through Paul Chek, Juan Carlos Santana to name a few. Courses, scientific back and scientific Core, Swiss Ball assessments and rehabilitation.
My maiden Name is Platz. I met Tom at the first ISSA CPT weekend course. We discussed the family crest and the probability that we are related. It was a great experience.
Do you have any previous athletic or lifting experience?
I've done everything from bodybuilding, weightlifting, powerlifting, multi-planar training, corrective training. It's just too much to list. I love it all!!
My first USA Raw Nationals Championship was in 2018. Came in 4th in The NATION. That was fun.
Do you compete? Why or why not? If you compete, what do you like most about the competitions?
Yes, I compete. I love it!! It challenges me on a whole new level. What I love most is how supportive the powerlifting community is.
Do you have a coach or trainer? In person or online? How did you find your trainer/program? Do you have any advice for women looking for a trainer?
I design my own programs
Where do you train? Gym, garage?
I train at home or at the gym I'm a trainer/coach at.
What is the hardest part about beginning lifting as an older woman?
Quite frankly the hardest part for the clients I train is not being fearful of lifting. You just need a qualified experienced coach who is educated and can design programming to work with any contraindications you may have. Just start!
How has lifting affected your health?
Since I can honestly say I've lifted almost my entire life, 18-55 years now. It's the fountain of youth. I'm stronger and healthier than most 30 years younger than myself.
What would you tell women just beginning this journey?
Find a Qualified Coach! And Just DO IT!!