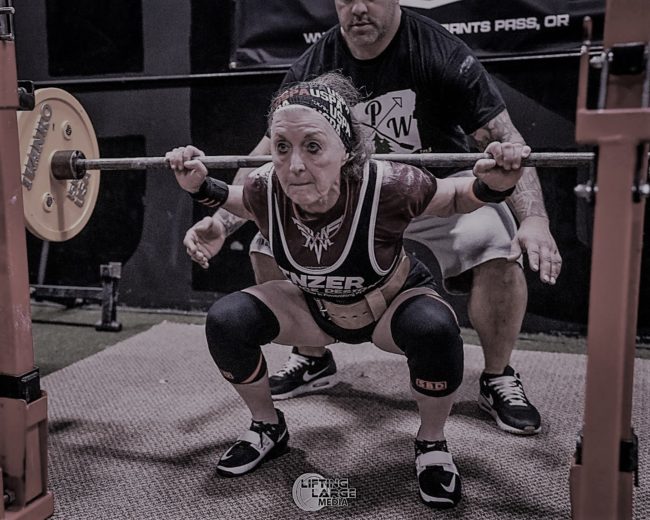 Weight Class
56kg/123.5 lbs.
Where do you live?
Oregon (near Portland)
Squat PR:
57.5kg/126.8 lbs. official
Bench PR:
37.5kg/82.7 lbs. official
Deadlift PR:
100kg/220.5 lbs. official
Years lifting?
17 months (roughly 1.25 years)
How did you come to powerlifting or Olympic lifting?
I joined a gym for the first time at age 71, in order to "try" Zumba Gold. Soon I hired a trainer for one session per week, and started out with 7.5 lb. weights–fast forward six years, he introduced me to the deadlift. First day, I lifted 145 lbs. I was hooked. He left the company and I found a new trainer who would not let me lift until I had sufficient mobility. Nine months later, I started deadlifting with him and he suggested I compete six months later deadlift only–State Record 95kg/209.4 lbs., Master Women, 75-79, 60kg weight class.
Do you have any previous athletic or lifting experience?
I was a dancer until college when I found I was too short for the Rockettes. During college, I was on the Varsity Sailing Team. After college, I raced sail boats, skied and played golf.
No lifting experience or even knowledge of what a lift was.
Do you compete? Why or why not? If you compete, what do you like most about the competitions?
Yes. In the past year I have competed in three meets and set state and national records for my age and weight class (first at 60kg/130lbs., now 56kg/123.5lbs).
Do you have a coach or trainer? In person or online? How did you find your trainer/program? Do you have any advice for women looking for a trainer?
In-person coach– I train as a member of a team. My coach was my personal trainer.
Advice: Find a coach who is certified in strength conditioning and who also competes so you can learn not only the lifts, but what you need to do to be successful at the meet.
Where do you train? Gym, garage?
While I teach six senior fitness classes per week at a big-box gym and sometimes do my workout or auxiliary work there, I train at a private gym which has all the equipment our team needs to train in the lifts and do the auxiliary exercises to help with strength, mobility and endurance
What is the hardest part about beginning lifting as an older woman?
Believing that I can lift the weights my coach thinks I am capable of doing. With proper nutrition, rest and form, I can surprise myself at what I am capable of accomplishing.
How has lifting affected your health?
It's hard to believe that I will be 80 next month, for I am healthier, happier and stronger than I was in my 30's. My doctor is one of my biggest cheerleaders and posts my photos in her examining room to inspire others.
What would you tell women just beginning this journey?
Find out all you can about what the journey entails. Get a good Personal Trainer/Coach who is certified in strength conditioning and mobility, and who also competes.