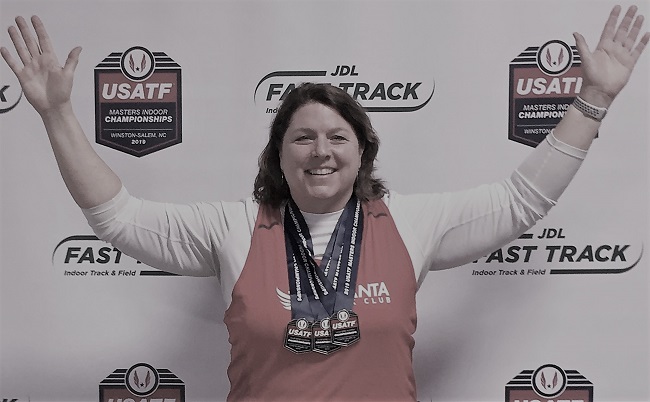 Name

Dr. Cheryl Wolfinger
Where do you live?
Acworth, GA
Squat PR:
160lb unofficial
Bench PR:
105lb unofficial
Deadlift PR:
210lb unofficial
Clean & Jerk PR:
54kg official
How did you come to powerlifting or Olympic lifting?
I have been doing Crossfit for three years, and loved the Oly lifting parts, but finally decided to focus on it last fall mainly to help me in my sport of throwing. I had hit a wall with my throws and was not seeing many PR's and knew that Olympic lifting would help me in every aspect of throwing. Fortunately my CF owner is a weightlifting coach and has been super supportive to give me a lifting schedule and guide me along the way.
Do you have any previous athletic or lifting experience?
I was a college basketball player and cycled competitively in grad school but stage 4 lymphoma 15 years ago left me with severe lung damage from the radiation. I only have about 68% lung function now. And, being a competitive person, I still wanted some way to compete but could not breathe well enough to do the things I knew, so I took up throwing and started out with just the shot put and then added on the weight throw, then discus and hammer with USA track and field. That led to meeting people involved in Highland games. I am a big girl, 6 ft tall, and was told that I was built for the highland games, so I gave it a go two years ago and LOVED it! I now compete in about six highland games a year and four track and field events. I have seven national championships in track and field and was 2019 National Champion Highland athlete.
Do you compete? Why or why not? If you compete, what do you like most about the competitions?
I did my first competition in December and loved it! (Maybe not the singlet so much.) It was so exciting. I think I like that adrenaline and excitement of something that really scares me but I am not likely to die from it! At my second competition in January, I qualified for Nationals so off we go to Orlando in April and we will see how it goes. As I have found in all of my competitions at the masters level, I love the encouraging spirit of all the athletes and everyone involved.I am also pretty much lazy and keeping competitions in front of me on the calendar keeps me accountable and working hard. As a cancer survivor, I think the perspective of how short and precious life is has also helped me savor the thrills of making it on the podium whenever I can.
Do you have a coach or trainer? In person or online? How did you find your trainer/program? Do you have any advice for women looking for a trainer?
I am at Crossfit and the owner is a certified weightlifting coach. I think you have to find someone who will look past your age and abilities and help you progress as you are able.
Where do you train? Gym, garage?
Crossfit North Cobb, Marietta, Georgia
What is the hardest part about beginning lifting as an older woman?
Fear. I knew I did not look or move at all like the lifters I would see online. After 4 knee surgeries and 2 major back surgeries, including a titanium fusion, I may never have the range of motion to catch in a deep squat. So, I just focus on what I can do, not what I can't.
How has lifting affected your health?
I am a completely different person since joining Crossfit three years ago. I am stronger, more flexible than I have been in years, posture is better, sleep is better, life is better. Lifting has made everyday life overall better because I feel good and strong and that helps with confidence in every area.
What would you tell women just beginning this journey?
Just take it one day at a time and don't get discouraged. We don't recover like we did in our 20's and it is hard for our minds to accept that fact, so be patient. And, you do you! Don't look around at others and get discouraged because you can't do what they do. Focus on your journey and know that every day you keep fighting, you are moving forward and there will be others behind you that will be inspired by your efforts.