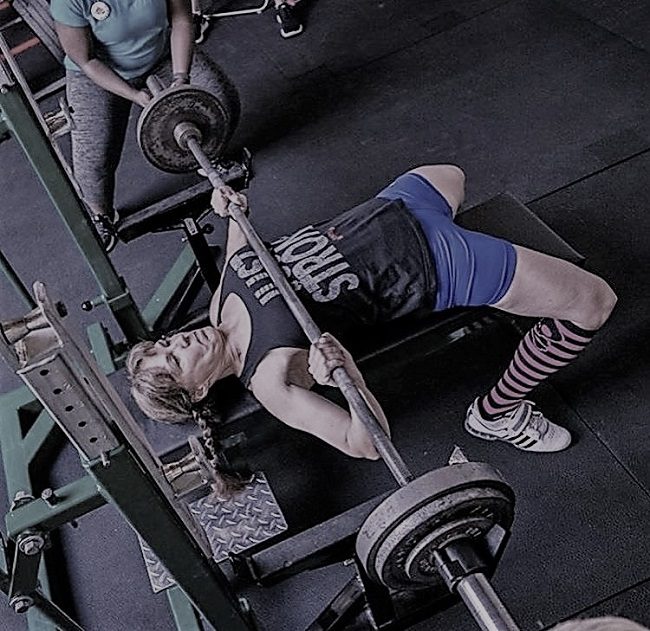 Weight Class
128.6lbs/60kgs
Squat PR:
209.38lbs/95kgs official
Bench PR:
152lbs/69kgs official
Deadlift PR:
308.6lbs/140kgs official
Years lifting?
30 years; 4 years powerlifting
How did you come to powerlifting or Olympic lifting?
As a young girl growing up in Maine, my lifting was in the woodpile.  I remember my father telling me how strong I was but that I was going to hurt myself.  Somewhere along the way, life took over.  Work.  School.  Kids.  I bought a cheap weight bench with income tax money back when my children were little.  I used to lift in the front entryway after they went to bed in the evening.  Before there were magazines or programs for women, I read men's muscle mags.  I did their old school bodybuilding programs and also put on a nice 30 pounds by following their diets (raw eggs, oatmeal, and peanut butter in the blender).  Oxygen magazine was my favorite when it hit the scene.  I read every page and dreamed of standing on the figure stage.  Made good on that goal when I was 48 years old.  I competed for a couple of years and did okay.  My last show was on my 50th birthday in Las Vegas.  From figure, strength seemed to be a logical progression.  I remember telling a few people I was going to do powerlifting.  One coach laughed at me.  You?  A powerlifter?
Fast forward to October 2017.  Me.  A powerlifter.  I competed in my first meet – an unsanctioned event in Omaha, Nebraska.  The experience was amazing.  I had never felt so strong an empowered.  From there, it was USAPL and UPA meets.  I'm a road-warrior who has spent over 200 days a year on the road for each of the past 14 years.  I don't pick meets based on federation.  I pick them based on my schedule – what dates work well for me?  Where am I going to be at that time?
Do you have any previous athletic or lifting experience?
As a child and teenager, I was not even the last one picked for team sports. I was the person the team who didn't get last pick, got. PE was my least favorite class in school. I hated it. I wasn't "athletic". My first adult experience was dragon boat racing on Okinawa, Japan. Turns out, I was good at rowing. So good that I coached the team in my second year and we took 1st place in an international competition! Returning from Japan, I started running and lifting weights with my husband. The running led to a couple of 5 and 10Ks. It was something I did. It was not anything I loved. It wasn't until I was 47 years old – tired of the road warrior life; full of too much restaurant food, hotel cookies, and stress – that I got excited, again, about working out. Joined a bootcamp and met four of my very best friends. That led to figure competitions which led to powerlifting.
Do you compete? Why or why not? If you compete, what do you like most about the competitions?
My main motivation for lifting is longevity.  I want to be strong and health for my entire life.  I focus on strength, cardio vascular health and flexibility. That said, while it's not my main motivation, I do compete.  I have a competitive spirit.  I challenge my kids to pull-ups and my grandchildren to headstands. I race the person who's on the treadmill next to me.  On the platform, I compete against me.  I try to beat my own personal bests.  I love this community because it's not about body shape or size.  It doesn't matter what we look like or where we come from.  Powerlifters cheer for one another.  I love the people and lessons I've learned.
Competition also gives me a deadline.  With all the travel and various time zones, it would be easy to put off the workout until tomorrow.  One day easily turns into a week which has a way of turning into a month before we know it.  The meet date on my calendar keeps me focused.  It gets me in the gym even when I don't necessarily feel like being there.
Do you have a coach or trainer? In person or online? How did you find your trainer/program? Do you have any advice for women looking for a trainer?
I am a personal trainer and wrote my own plans for a while.  When I decided to start competing, I found an online coach through a variety of common friends.  Training online is not my preference.  It would be nice to go to the same gym every day, at the same time, with the same group of friends.  That just doesn't fit into my life right now.  I think it's important for us to remember we all have challenges.  Things don't have to be perfect, to begin.  In fact, if you're waiting for that, you're never going to get started.
I'm currently on my third coach. The first left the online space.  The second was a little too busy for me.  The third is just right.  Goldilocks, anyone?  He's blatantly honest (not everyone likes that – I value it tremendously).  He doesn't coddle me.  He listens and provides relevant feedback.
My advice to a brand new lifter would be to start with in-person training.  Find a coach you feel comfortable with.  It should be one that focuses on form!!  Form always has to come first which may mean you need to ditch some your ego too.  Lifting heavy weight with crappy form is only going to leave you potentially injured and very frustrated.  Online training/coaching requires you have good basic movement patterns and a lot of self-motivation/focus.
Where do you train? Gym, garage?
My favorite local gym is Omaha Barbell but I'm not home often enough to justify a membership. This is another consequence of my extensive business travel. Local gyms, classes, or groups just don't fit. I have a membership to Anytime Fitness because there is a gym in 95% of the places I travel to and I can get in any time, day or night. I have a squat rack and bench in my basement (a Mother's Day gift from my husband a few years ago). That comes in hand in a pinch. I personally prefer the gym over my basement though. I work harder and stay more focused outside of my own house.
What is the hardest part about beginning lifting as an older woman?
The same thing that's hard about lifting as a younger person – remaining motivated while training to a level where you don't get injured or burnt out.  It can be difficult to get over the old school thought that "heavy weights are for the men" or that we will get hurt if we lift.  Neither is true!

"Age is just a number" isn't merely a saying for me.  I believe it.  I am stronger and more fit at 55 than I have ever been in my life.  The hardest part about lifting for me has nothing to do with age:  it is my insane travel schedule.
How has lifting affected your health?
I have scoliosis and hip dysplasia (from a childhood injury).  When I first started powerlifting, my max squat was 95 pounds and I was getting down to barely lateral.  My doctor told me I had "no business lifting weights".  My max recorded squat is now 209, below lateral.  Lifting has most definitely caused that positive change in mobility!  Strength training also affects our mental health and emotional well-being.  I know that I can work through heavy things – at the gym and in life.  I am physically and emotionally stronger than I have ever been.  My grandchildren want to "grow up to be strong like gramma".
What would you tell women just beginning this journey?
The journey doesn't have an end.  This is a life-long commitment.  We need to be concerned about muscle loss, osteoporosis, and decreased mobility as we age.  Lifting helps with all of those things.  It's a gift to yourself and to those you care most about.  We don't think about that but if I can go my entire life taking care of myself, it's something they don't have to do.  Pick up the heavier weights, ladies. Spend the money on a coach – at least at first – so that you can learn how to lift safety and with good form.   Lose the ego.  Do what you can, when you can with what's available (for time, equipment, capacity, etc) at the time.  Push yourself a little more every day.  Stay consistent. Do the work.  You're so worth it.