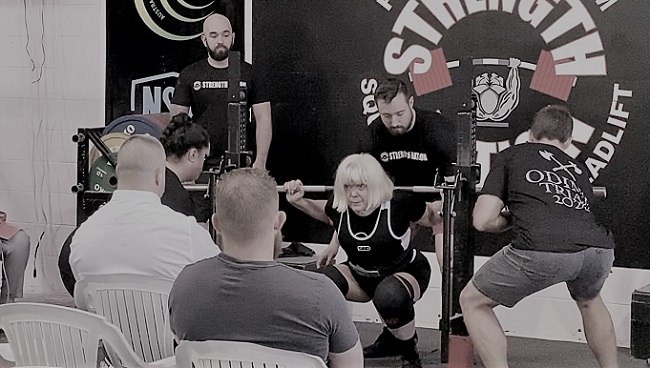 Where do you live?
Sydney Australia
Years lifting?
Powerlifting 1year
How did you come to powerlifting or Olympic lifting?
I used to do bodybuilding and found I loved the feeling of being strong.
I googled "Powerlifting gym" on the internet and found one which specializes in same.
I found the regular gyms did not cater for getting people really strong.
Do you have any previous athletic or lifting experience?
Yes 10 years bodybuilding. Started bodybuilding at the age of 59.
Do you compete? Why or why not? If you compete, what do you like most about the competitions?
Yes I had my very first competition at the age of 70. Competing gives life to my lifting and lifting gives life to competing. I would like to see how strong I can get.
The competitions put you "on stage" where others who don't compete, or even lift, can see you. Most are shocked when they find out my age. I don't fit the mold of a 70 year old. It gives me a chance to encourage others to start lifting. At my last comp a few older ladies came and chatted to me about lifting.
Do you have a coach or trainer? In person or online? How did you find your trainer/program? Do you have any advice for women looking for a trainer?
Yes I have a coach. I see him in person. I found him just by googling "powerlifting gym" and he was one of the coaches there. He told me that, at the time, he was number 4 Strongman in the World. I figured he would know a thing or 2 about strength.
My coach had no experience with someone my age. It has been very much a learning experience for him. He puts a lot of thought into my programs. There is no cookie cutter approach. I would say choose a coach who knows a lot about strength and cares about YOU and is more than willing to teach you.
Where do you train? Gym, garage?
I train in the gym.
What is the hardest part about beginning lifting as an older woman?
Well, you usually aren't as naturally strong as the young ones but that strength can be built up with consistency. I would also advised to get a mobility coach or practice Pilates, like I do, or yoga. Lifting can make you very stiff. Your coach may know a few mobility moves but an expert in the area would be worth the investment..
How has lifting affected your health?
I used to have chronic back pain – for over 30 years. Also very painful hips. A physiotherapist told me once to be very careful and not lift very heavy. Well, I now have no back or hip pain whatsoever and I lift heavy
.
What would you tell women just beginning this journey?
Don't let the naysayers stop you. You will stand out from your friends who don't lift. You will get a lot of negativity from your non-lifting friends but it's your life. You definitely won't regret it. There's nothing like the feeling of being strong.
My lifts aren't as heavy as a lot of people in this group but they are heavy for me. You can only do what you can but it is important to do what you can as nobody is going to do it for you.