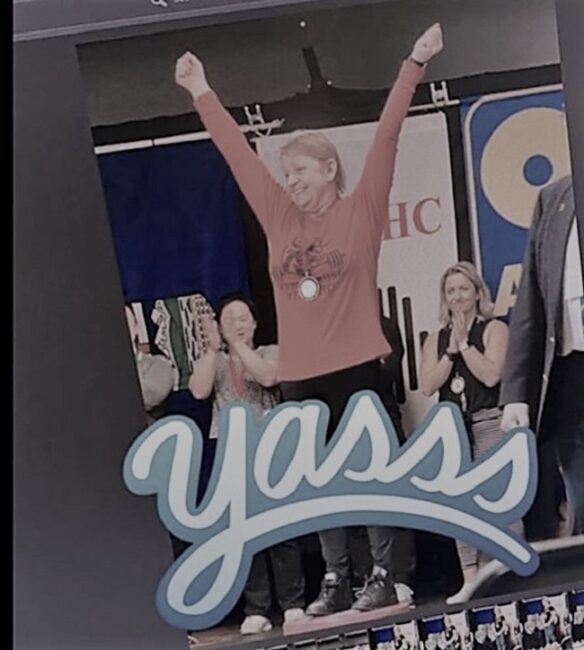 Where do you live?
St Albert , Alberta, Canada
Squat PR:
Back squat 60 Kg Front Squat 54Kg
Bench PR:
33Kg for 4 reps
Deadlift PR:
80 Kgs for 5 reps
How did you come to powerlifting or Olympic lifting?
I attended our local rec center regularly and took the Seniors Aquasize class. I eventually got bored with it and decided to take the leap and enroll in an Olympic Lifting Intro program that was being offered. After 5 or 6 classes, I fell in love with it, even though I was so bad at it. I did not quit.
Do you have any previous athletic or lifting experience?
None
Do you compete? Why or why not? If you compete, what do you like most about the competitions?
I have competed 3 times in total, twice in the Gordon Kay which is the Alberta Provincial Masters. I received a gold metal both times. I was so proud of myself . I do have to say though that I did not have any competition which I would love to have. It is difficult when you don't really know where you really fit as I can't really gauge myself against others equal to me.
Do you have a coach or trainer? In person or online? How did you find your trainer/program? Do you have any advice for women looking for a trainer?
I continued to work with the trainer from the rec center. She is my Personal Trainer. Of course, like everyone else, I have not had a trainer since late February which really shows in my performance these days. I think, when looking for a trainer, you need to find someone that you really can trust. My trainer is half my age but has become a really good friend.
Where do you train? Gym, garage?
I trained at a local gym and I am also very fortunate to have a pretty nice little gym in my garage which is also heated.
What is the hardest part about beginning lifting as an older woman?
I think the hardest part for me was getting my neurological system to adjust to physical exercise. I am still too slow with my lifts but practice makes perfect. I also found that you can't quit, it is hard and I remember in the beginning, even the bar was too heavy for me. You just have to persist and it is worth it in the end.
How has lifting affected your health?
I have dropped a little bit of weight, not much and really this has not been my focus. I feel stronger and healthier. I actually had PAD and was having difficulty just walking as I had lost a lot of compression in my legs. I could walk a block and then I would have to sit for a few minutes before I could move forward for the next block. Now you would never know that I went through that.
What would you tell women just beginning this journey?
It is difficult and the bar is heavy to start, but you need to keep going. It is so worth it. My husband, my daughter and my 24 year old grandson, are all so proud of me and that in itself is worth it.
Include your Instagram (optional)
sjdew_66