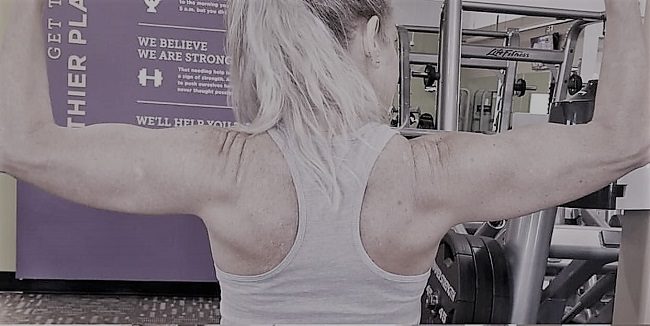 Squat PR:
87.5 official 90 kg unofficial
Deadlift PR:
102.5 kg official
How did you come to powerlifting or Olympic lifting?
I moved from CrossFit to PL only when i started to see the body composition changes i was seeking. After years of being an average active adult, I am loving the healthier, stronger, new body that is a result of proper nutrition and powerlifting.
Do you have any previous athletic or lifting experience?
Previously, I wasn't a dedicated athlete. I would join a gym, not know how to move through a gym or build a program and give up. At 52 I started running, from there I explored and loved CrossFit until I was introduced to a lifting only program with limited amounts of low intensity cardio.
Do you compete? Why or why not? If you compete, what do you like most about the competitions?
I do compete and love it. On December 1, 2018 I set 26 records in Alabama! The world of athletes supporting each other is amazing to experience.
Do you have a coach or trainer? In person or online? How did you find your trainer/program? Do you have any advice for women looking for a trainer?
I have used a trainer. He's online with regular contact. My advice would be to define your goals and find the program that lines up with those goals. Then take the time to interview/research coaches that have experience in the areas you wish to go.
Where do you train? Gym, garage?
I train in a gym, but have garage equipment for in a pinch
What is the hardest part about beginning lifting as an older woman?
The hardest part for me is not having peers to lift with, and that's not really that hard. I have lifting friends that are 20 – 30 years younger and that really is a help. They don't think of me as old so we just lift!
How has lifting affected your health?
I am fortunate to be in great health so, I can only believe this will keep me that way.
What would you tell women just beginning this journey?
DO IT!!!! Do it at your speed though… scale the moves, the weight, the frequency to match your current physical abilities. It will get better, you will get better. Make friends in your lifting location and online, there is so much information to learn. Trust your body, rest when you need to, work on your mobility, keep moving and get strong, it will protect your body as you age. Age is going to happen, being weak doesn't have to go with it.