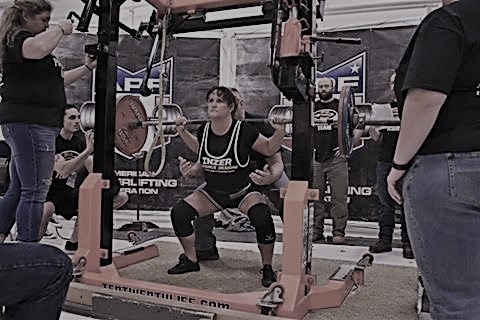 Where do you live?
Auburn Maine
How did you come to powerlifting or Olympic lifting?
I began powerlifting about 2 1/2 years ago after a good friend of mine convinced me to sign up for a competition. Neither she or I had much powerlifting experience but she wanted to see what it was like. That first meet was amazing, I came in 1st place in my age division. This gave me such great self esteem and confidence to continue to see how I could grow.
Do you have any previous athletic or lifting experience?
The only experience I had with lifting was several years of working out at a small community gym where we used not traditional weights like cinder blocks, logs, tires and chains. As I look back, I chuckle as we made a make shift bench using an igloo cooler and cinder blocks. We made what ever we had work.
Do you compete? Why or why not? If you compete, what do you like most about the competitions?
I currently compete a few times a year
Do you have a coach or trainer? In person or online? How did you find your trainer/program? Do you have any advice for women looking for a trainer?
I do not have an official trainer but belong to a gym that has a small powerlifting team. The owner of the gym has decades of powerlifting experience and holds many records. We all workout together and critique each other as needed.
Where do you train? Gym, garage?
I train at a private key club gym.
What is the hardest part about beginning lifting as an older woman?
The hardest part about learning to lift at my age is my lack of confidence. I'm often told it's in my head and to "get it out of there".
How has lifting affected your health?
Lifting has improved my overall health in terms of energy level, eating habits and weight. Love that part.
What would you tell women just beginning this journey?
I would tell women who are just beginning this journey to enjoy it, believe in themselves and have fun. Do it for you, no one else.