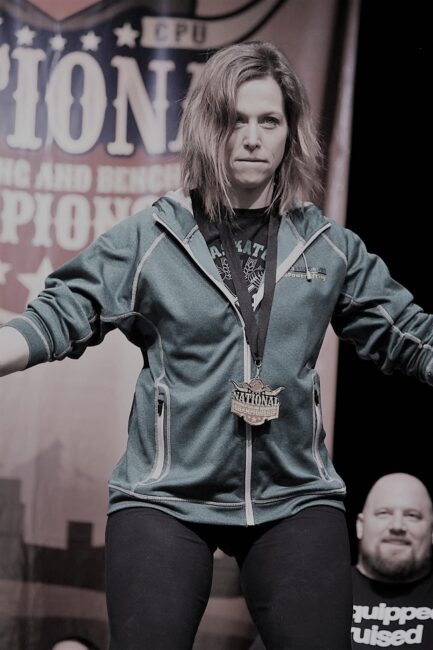 Where do you live?
Moose Jaw, SK, Canada
How did you come to powerlifting or Olympic lifting?
My brother teased me in our grandma's kitchen about my aerobics video version of a squat. So a few weeks later when I was back (unfortunately for our grandfather's funeral) he taught me what I needed to know. He's coached me ever since.
Do you have any previous athletic or lifting experience?
5 pin bowling doesn't really count except I got good at competition and even appeared on TSN in 1997.
Do you compete? Why or why not? If you compete, what do you like most about the competitions?
Been competing since June 2007, after only training for a few months. I love the camaraderie and intensity.
Do you have a coach or trainer? In person or online? How did you find your trainer/program? Do you have any advice for women looking for a trainer?
My brother has been my coach since before powerlifting was cool. Look for experience, not just someone with a good total.
Where do you train? Gym, garage?
Gym – small group at Unparalleled
What is the hardest part about beginning lifting as an older woman?
Strength already came slow… Now it's slower!
How has lifting affected your health?
I've been lifting so long I'm not sure but I think it's making me immortal… Though I feel like I'm near death some days haha.
What would you tell women just beginning this journey?
Be consistent. Do what you can. Find the joy. Everything sucks sometimes but if you still find a drive even in the suck you know you're in the right place.
Include your Instagram (optional)
Smszuch