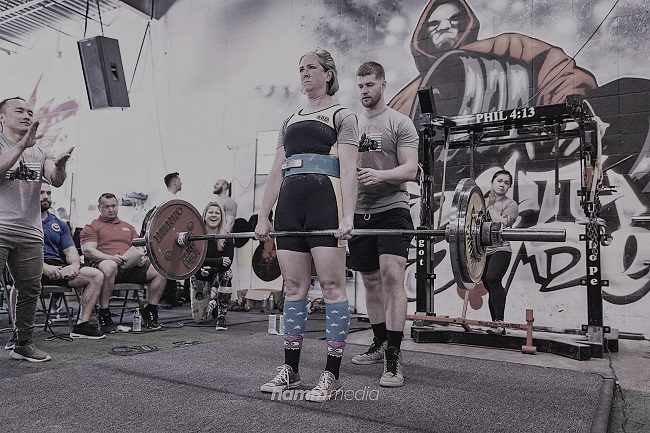 Where do you live?
St. Paul, MN
Squat PR:
77.5 kg, USAPL meet 11/2018
Bench PR:
42.5kg, USPA meet 5/2019
Deadlift PR:
112.5kg, USPA meet 5/2019
How did you come to powerlifting or Olympic lifting?
I had been working with a PT for about 2 years and was getting bored with circuit training. My PT would post videos of other clients deadlifting and some part of me really responded to that. I started seeing other women on social media lifting heavy and wanted to learn how to deadlift. It was the first lift I learned and I fell in love with the sport! He taught me the basics but for actual powerlifting, I've been working with Jennifer Volgelsang Blake (JVB) since 2017.
Do you have any previous athletic or lifting experience?
I am a reformed runner who has done 4 half marathons and 1 full marathon.
Do you compete? Why or why not? If you compete, what do you like most about the competitions?
Yes, I compete at least 2x per year. My first competition was a novice meet. I was so nervous leading up to the meet but the day of was just so much fun I wanted more. I've done 5 meets so far and love how supportive everyone is.
Do you have a coach or trainer? In person or online? How did you find your trainer/program? Do you have any advice for women looking for a trainer?
As I mentioned above, I work with JVB. Met her via the Movement in Minneapolis but did my first meet following her Upowerful online program. I now train with her at Lifetime Target Center in Minneapolis.
Where do you train? Gym, garage?
I own a trap bar but train in a gym
What is the hardest part about beginning lifting as an older woman?
Getting over feeling silly for wanting to lift. Learning to claim your space in the squat rack, bench or platform.
How has lifting affected your health?
I think the best thing lifting has done for me is teach me to really respect the value of regular practice. I show up and train but listen to my body and adjust based on the feedback I'm getting. I want to keep lifting as long as I can so know that I need to put in the work to build and maintain a strong foundation.
What would you tell women just beginning this journey?
If lifting excites you, go for it! You may be a unicorn among your friends but you will find other unicorns who understand the thrill.