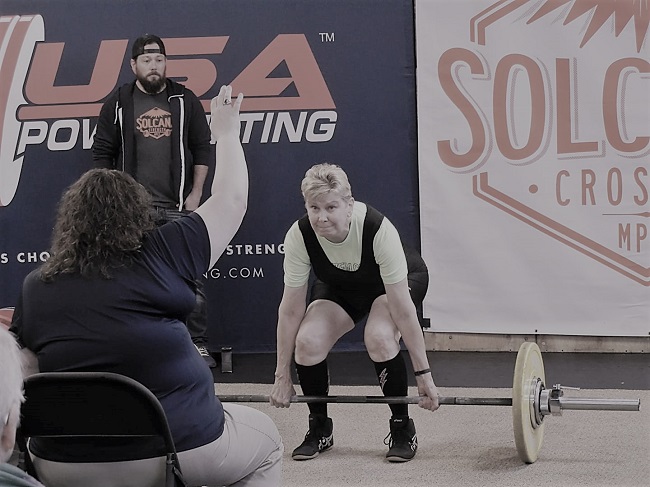 Where do you live?
Minneapolis, Minnesota
How did you come to powerlifting or Olympic lifting?
I have to be honest. Long story short, I discovered that there was no one over 70 competing in Minnesota. I thought, WTH, I can be the first and set state records! LOL! So, I found a coach and started training for a deadlift competition scheduled four months later.
Do you have any previous athletic or lifting experience?
I have never been an athlete and I was horrible at every sport I tried. There were no sports for girls when I was in school. But, I was a farm kid and always strong. I started working out on weight machines 3 years ago and switched to powerlifting 1 1/2 years ago when I decided to compete.
Do you compete? Why or why not? If you compete, what do you like most about the competitions?
I competed 3 times last year. It's fun to test myself. The bad part for me is that my gains are really slow and I feel like my numbers are really puny. I wish I'd started years ago! I'll be competing in Masters 4b this year (75-79) and won't have any competition. New state records!
Do you have a coach or trainer? In person or online? How did you find your trainer/program? Do you have any advice for women looking for a trainer?
My coach is the owner of the gym where I belong. When I decided to start powerlifting training, I found him online and interviewed him. He was as excited about my competing in my 70s as I was! I was 73 at my first competition. He loves having older people as his clients and is mindful of their restrictions.
Where do you train? Gym, garage?
I belong to a small gym and there are never more than 5 in a class, and most often only 3. My coach is always watching to make sure I'm maintaining good form.
What is the hardest part about beginning lifting as an older woman?
It hasn't been too hard for me since I had two years of training on machines before switching to free weights. I've been very lucky. The hardest part has been putting on that damned singlet for competing. I should get a medal just for getting on a platform wearing one at this age.
How has lifting affected your health?
I am incredibly fortunate and grateful that I'm very healthy and have no aches or pains. Pretty amazing at my age! One of the reasons for me to continue to lift weights is to build bone mass. I've been diagnosed with the beginning stage of osteopenia and I hope to turn that around.
What would you tell women just beginning this journey?
Find a coach that you click with. Be sure that they are attentive to physical limitations of older women. Be patient with yourself. At my age, gains are slow.