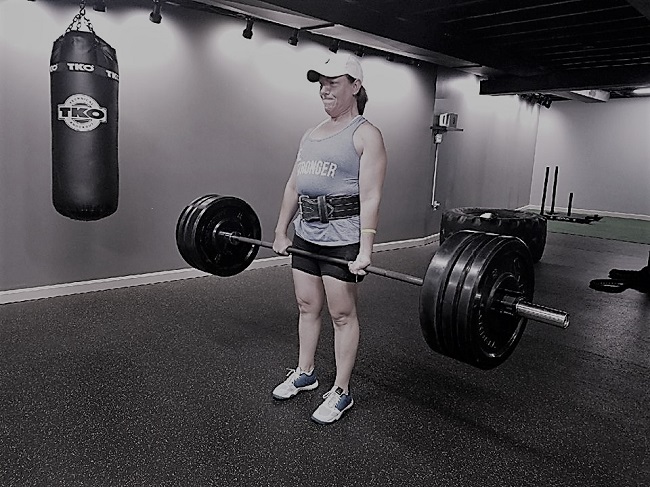 Squat PR:
253.5 lbs Official Northeast Regionals 2018 USAPL
Bench PR:
137.7 lbs Official Northeast Regionals 2018 USAPL
Deadlift PR:
308.6 lbs Official Northeast Regionals 2018 USAPL
Years powerlifting?
Started training in Nov. 2015, First meet Aug. 2016
How did you come to powerlifting?
I was recovering from a ruptured Achilles Tendon and was just working with upper body weights. I spoke with my trainer and asked him what he thought about body building and he suggested powerlifting. I did some research and told him I was in and we started training and have been hooked ever since.
Do you have any previous athletic or lifting experience?
I use to compete in sprint Triathlons before my achilles rupture.
Do you compete? Why or why not? If you compete, what do you like most about the competitions?
I do compete. I have qualified for the 2019 Raw Nationals and will be competing in 2 more in the New England area. What I like about competing is the friends you make along the way.
Do you have a coach or trainer? In person or online? How did you find your trainer/program? Do you have any advice for women looking for a trainer?
I did start with a trainer and worked with him for 3 years. I have a powerlifting coach/trainer now, I wanted to take my training to the next level. I meet with him one day a week and work on my own 3 days week. I found my new coach at a deadlift workshop. I do travel 1 1/2 each way to meet with him. I started with a trainer because I wanted to be sure I was doing all the lift correctly. I still work with one because of his knowledge in the sport and to keep me on track and accountable.
Where do you train? Gym, garage?
I do train in a commercial gym.
What is the hardest part about beginning lifting as an older woman?
The hardest part I found was making sure I did the movements correctly.
How has lifting affected your health?
It's made me stronger for sure. My blood pressure and cholesterol is lower.
What would you tell women just beginning this journey?
Be patient, it takes time to get the movements and build muscle and don't let the boys in the weight section of the gym scare you off, before you know it you will be back squatting more then most of them.