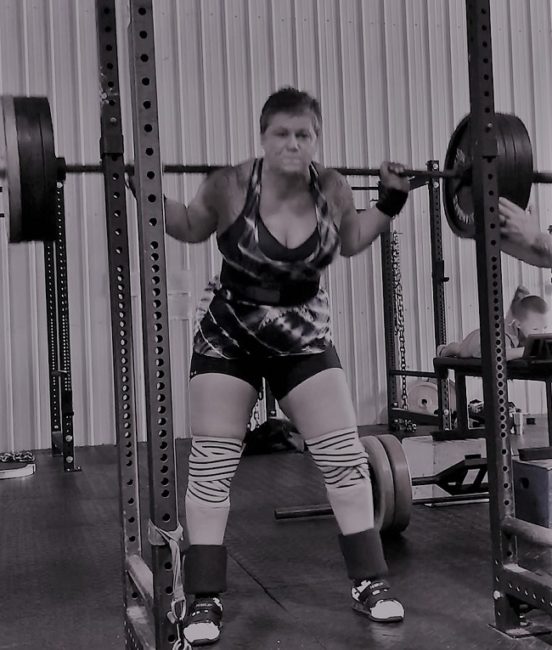 Where do you live?
Central Illinois USA
Squat PR:
418.8 lbs RPS Meet
Bench PR:
248 lbs USPA Meet
Deadlift PR:
485 lbs Arnold Classic
Years lifting?
5 years lifting
How did you come to powerlifting or Olympic lifting?
I discovered lifting as a way to get exercise that I enjoyed. My coach Zac Turner and a 70 year old friend Sandra Foli invited me to compete in a local meet and I was hooked!
Do you have any previous athletic or lifting experience?
I played volleyball and basketball in high school.
Do you compete? Why or why not? If you compete, what do you like most about the competitions?
I compete both raw and wrapped. I compete because I love the pressure of a coming meet – it pushes me to do the prep work and eat correctly. It helps me stay motivated.
My favorite part of competing is meeting the most amazing humans and the friends I make along the way.
Do you have a coach or trainer? In person or online? How did you find your trainer/program? Do you have any advice for women looking for a trainer?
I have a coach and trainer, Zac Turner. He does both online and in person training. I train with him in person two days per week. He writes my programming and I know what I am doing everyday – a month at a time. I've had other trainers they were good but we didn't have the same chemistry. Zac draws my best out of me and doesn't accept my excuses.
Advice- find someone with a fitness and nutrition education, who has competed in your sport and can show you their clients who are getting results. Find someone you have chemistry with and will push you and help you achieve your goals not theirs.
Where do you train? Gym, garage?
I train in multiple gyms.
What is the hardest part about beginning lifting as an older woman?
The hardest part is that I still work full time. Time is my biggest challenge.
How has lifting affected your health?
Lifting has changed my health dramatically for the better.
Mentally – I am more confident seldom sad or depressed.
Physically – I am stronger and my blood pressure and cholesterol are better.
While I do have PAD, my body produced some of its own documented bypasses to compensate as a result of the lifting, training and good diet of the last 5 years.
What would you tell women just beginning this journey?
Don't quit. Eliminate excuses. Show up, do the work one day at a time. Time is going to pass regardless and the cumulative results of 'one day at a time' will pleasantly surprise you. It will hurt but it is the good hurt.