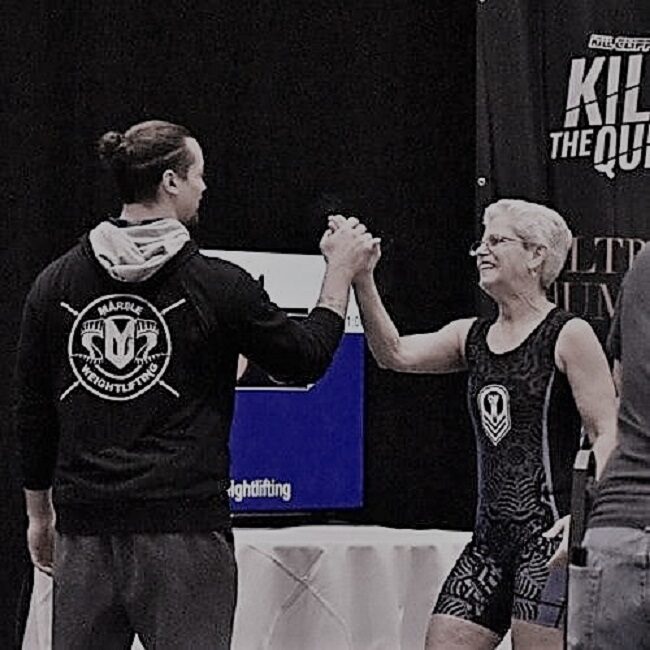 Where do you live?
Toms River, NJ
Clean & Jerk PR:
34 kg at a Meet
Snatch PR:
26 kg at a Meet
Years lifting?
Crossfit lifting 5 years and Olympic lifts 2 years
How did you come to powerlifting or Olympic lifting?
I was introduced to the barbell when I started Crossfit at 66 years old. I had first started working out at 51 years old in a traditional gym taking group classes with dumbbells. Never touched a barbell until I started Crossfit. My Crossfit brought in a USAW Coach to work with those that wanted it on Olympic lifting. At the end of 2018, I decided I wanted to get better at technique. In March of 2019, I had my first local meet and in March of 2020 I qualified for The Arnold in Columbus, Ohio!!! What a fabulous experience that was!!
Do you have any previous athletic or lifting experience?
I have NEVER been athletic in my life! No sports in high school! I didn't have the opportunity growing up. I joined a gym at 51 years old after losing 30 pounds and started running at 56, doing my first half marathon just before my 60th birthday, running my last half at 67. I continue to run but no more than 3 miles.
Do you compete? Why or why not? If you compete, what do you like most about the competitions?
I'm a goal driven person. I will train better knowing there is a goal to reach. That's why I compete. It's about the process and the people! I love seeing what we can do when we put our mind to it. I love meeting people with the same interest, or not! I love the growth in the sport. I qualified and registered for World Masters Championship! Only five women from my age group will be chosen to compete!! I hope I'm one of them and will continue to train as if I am!!! I am honored to be part of such an amazing group of women!!!
Do you have a coach or trainer? In person or online? How did you find your trainer/program? Do you have any advice for women looking for a trainer?
I have a coach I work with about 3 days a week. I was introduced to him when our old coach was leaving. It's a wonderful group I train with and love my coach. He's awesome. My advice is to learn the lifts correctly from the beginning! I think it's very important to learn in person with a coach. You want good technique to avoid injury.
Where do you train? Gym, garage?
My coach has a Crossfit and Weightlifting gym. He also holds Olympic Weightlifting Meets.
What is the hardest part about beginning lifting as an older woman?
As I said, I started in Crossfit with the barbell. Being timed for most WOD's technique became second to the clock!!! Rushing to get through a WOD before you have really learned proper technique was not so cool!!! I decided to work with the USAW coach to get better at technique. The hardest part is not to compromise your lifting to beat the clock!!! Focus on the lifts, good technique is most important!!! No one is ever too old to start!!!
How has lifting affected your health?
I'm one of the few women in my family that does not have osteoporosis. Because I lift and now compete I also eat much better to maintain my weight. I feel great and am healthy. I can keep up with my 3 grandsons. I am very thankful for my good health.
What would you tell women just beginning this journey?
This is a process that you must be patient with to get it right!! It's a wonderful journey and in time you will definitely see the progress. Just like life, you will have great lifting days and some days maybe not so hot!! Never forget those good days … because there will be more of them!!!
Include your Instagram (optional)
marcy.seymour