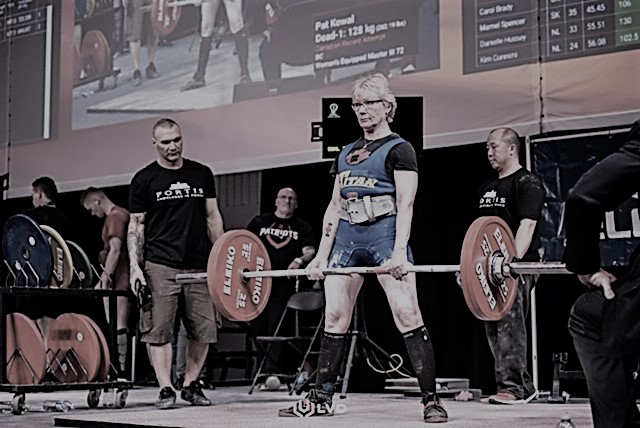 Squat PR:
120 k (meet) equipped
Bench PR:
73k (meet)equipped. 63 k (meet) raw
Deadlift PR:
137.5 k (meet) equipped
How did you come to powerlifting or Olympic lifting?
Volunteered at a meet.
Do you have any previous athletic or lifting experience?
Started out bodybuilding.
Do you compete? Why or why not? If you compete, what do you like most about the competitions?
Yes I do. I like to challenge myself. Lifting in the gym (or in my case the garage) is one thing. Doing it on the platform is another. The hype. The camaraderie. The thrill. I love it!
Do you have a coach or trainer? In person or online? How did you find your trainer/program? Do you have any advice for women looking for a trainer?
I have trained with a coach in the past and I do have one now. He is a friend and also a past powerlifter. My advice is to make sure they respect who you are and where you are in life and your goals.
Where do you train? Gym, garage?
I train in my garage.
What is the hardest part about beginning lifting as an older woman?
I first started Powerlifting at age 40. I loved it and really fell right into. There weren't a lot of female powerlifters back then (early '90's), let alone older ones so it was hard being a female in the sport. I have found as I've aged I've had to change my style of training. I need more time to recover from heavy lifts and if I injure myself, it takes longer to heal. I really focus on staying healthy and injury free.
How has lifting affected your health?
I am very healthy and I find I am more conscious now than ever before on keeping myself that way. Lifting helps lower my stress level, builds bone density, keeps me agile and in good physical shape.
What would you tell women just beginning this journey?
Set yourself some realistic goals to reach in a timely manner. Long range goals a good to have but short ones help keep you motivated as you reach them. Find a good training partner. Learn proper technique. Train smart and treat any injuries immediately. Have fun!