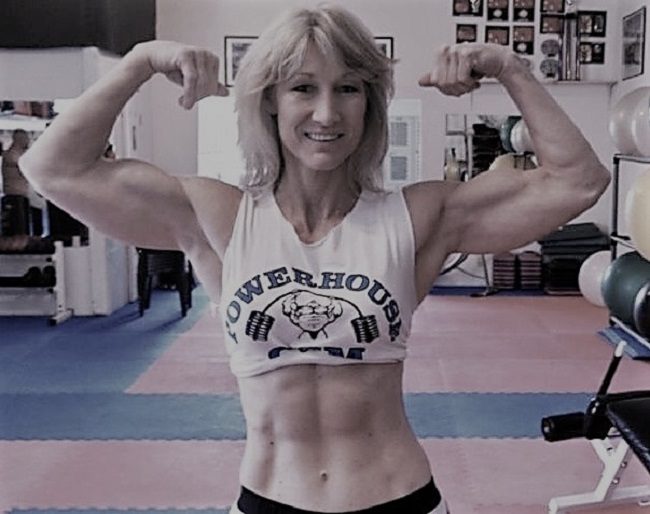 How did you come to powerlifting or Olympic lifting?
Growing up on a farm in Wisconsin, I was naturally strong from doing all the required farm chores. My older brothers were champion wrestlers and powerlifters. In 1975, when I was 14 yrs old, the local powerlifting meet opened up to female lifters for the very first time. With only 3 months of training with my brothers, I placed 1st in the 148# weight class with lifts of 205 lb squat, 95 lb bench and 259lb deadlift.
Do you have any previous athletic or lifting experience?
After competing in powerlifting as a teen, I moved on to bodybuilding competitions after my daughters were born. I won the A.A.U. titles of Ms. California, Ms. Nevada and then Ms. USA.
Do you compete? Why or why not? If you compete, what do you like most about the competitions?
Yes. As a extremely shy and introverted teen, powerlifting gave me a confidence I had never before experienced.
Do you have a coach or trainer? In person or online? How did you find your trainer/program? Do you have any advice for women looking for a trainer?
I have been a personal trainer for 26 yrs, certified through the American Council on Exercise.
Where do you train? Gym, garage?
I train clients and instruct group strengthening classes at a small hometown gym, but I also have an extensive home gym in my garage.
What is the hardest part about beginning lifting as an older woman?
The difference between lifting as an older women vs my younger self is the constant multiple joints pain that I now experience. I devote more time to stretching and warmups. Advil is my friend.
How has lifting affected your health?
Of course the defined muscles and above average strength are simply wonderful, but the biggest change has come to my mental health. Lifting has boosted my confidence, kept my depression at bay and put a smile on my face.
What would you tell women just beginning this journey?
If you are considering joining us lifters, don't be shy about asking for advice. We love to share our knowledge and help others to reap the indescribable benefits, physically, mentally and emotionally.