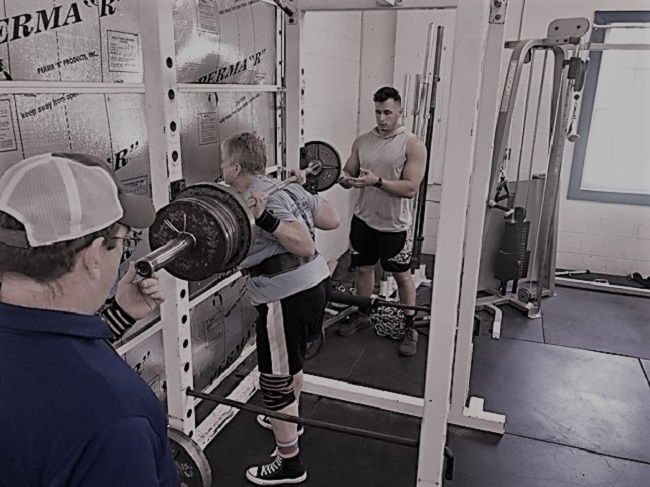 Weight Class
198 and 198+
Where do you live?
White Bluff, TN but hopefully Florida soon.
Squat PR:
official: 203.7 lbs; 215 lbs unofficial
Bench PR:
Official: 104.7; unofficial: 130
Deadlift PR:
Official: 281.1 lbs. unofficial 285
Years lifting?
2 years starting December 2018 but I also lifted for 2 years 1982-1984.
How did you come to powerlifting or Olympic lifting?
I had been playing racquetball and strained my back. That sent me to a trainer at the Y where I played racquetball and she got me started lifting. A powerlifter who trained there invited me to try it and I was hooked. I was the Colorado 1983 Novice Champion.
Do you have any previous athletic or lifting experience?
Yes. I swam butterfly and freestyle in AAU Swimming from age 9-18, then swam in college. I also played tennis. My husband got me involved in observed trials motorcycles in 1973, and I was the first woman to make the men's Junior class in Michigan-Ontario Trials Association. I also did road running events including some 10k, half marathon, and the Detroit Marathon in 1979. Also played tournament racquetball.
Do you compete? Why or why not? If you compete, what do you like most about the competitions?
Yes, I compete. Back in my 30s I did it for fun and challenge. Now 69-71, I still like the challenge but also like the competitions because they test everything I believe about myself and that I can inspire others.
Do you have a coach or trainer? In person or online? How did you find your trainer/program? Do you have any advice for women looking for a trainer?
I have an in-person coach, Eric Spence, who competed in NASA for over 20 years. He rehabbed my entire left side when I finally recovered from a shattered elbow and lower arm fracture in 2016. After 1.5 years of therapy with a great therapist, Spence took me on for strength rehab and rebuilt me. He knew my goal was a left knee replacement and got me ready for that, which I had in May 2018. (I'd had a RTKR back in 2014.) After the LTKR, it was back to rehab with him and my first meet was the day after my 69th birthday, December 7.
Where do you train? Gym, garage?
I train at East Hickman Family Fitness in Bon Aqua, TN, about 30 miles west of Nashville.
What is the hardest part about beginning lifting as an older woman?
For me it was wearing a singlet again and getting back into being judged by refs. At my first meet back, I was treated like a rock star. Spectators were awesome, and came up to talk to me. I had on my flashy socks my husband got me, and I kept thinking my singlet needed 2 more inches in the legs. Since then I've purchased singlets with better fit!
How has lifting affected your health?
My mental focus and determination to never give up have helped me in every day living. I train 7 classes a week at our gym, all ladies ages 19-71. I teach them what I have learned about balance, focus, core, and mindset. I'm the oldest one there, so they know I'm doing what I teach. My arm doctor, leg doctor, family doctor, and chiropractor are all on my team, and give me green lights in this.
What would you tell women just beginning this journey?
Set goals and don't let anything stop you. Don't listen to those who say powerlifting is not "ladylike" or try to discourage you saying you could get hurt. I've never been hurt by powerlifting.