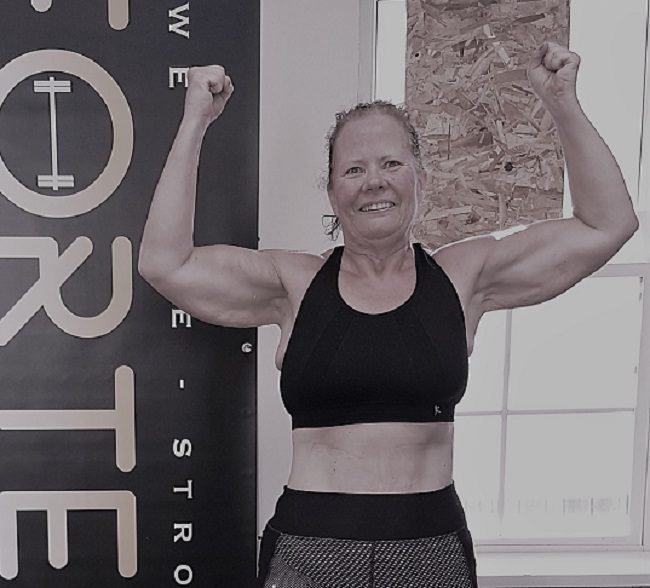 Weight Class
I weight 137 lbs – not sure what class that puts me in
Squat PR:
115 Lbs – using safety squat bar, unofficial
Deadlift PR:
190 Lbs, unofficial
Years lifting?
5, but long road to getting fit enough to lift anything heavy
How did you come to powerlifting or Olympic lifting?
My oldest daughter, who is my coach, got me into it. I have had osteoarthritis since my early 30's and was very stiff and in pain in back, knees and hips, and had just had a serious bout of shoulder and upper arm tendinitis in both shoulders (including one frozen shoulder).My daughter set up a custom program for me that allowed me to get me more flexible and fit, and then as I improved the program progressed and weights got heavier. It was slow going at first but after 3 or 4 years I had no more constant pain and was able to actually squat down. Then I was able to inclrease the weight I was able to lift my improved form.

I love it; and my daughter pushes me to keep improving and set new PR's. Old Ladies Rock!!!
Do you have any previous athletic or lifting experience?
None whatsoever.
Do you compete? Why or why not? If you compete, what do you like most about the competitions?
I do not compete. Currently my lifts are not heavy enough to consider going to a meet. I also do not have the time to commit to a program on the track for competition. Shoulder problems also mean I use a safety bar for squats which is not allowed in meets, and these same shoulder problems limit any bench work; I usually do my "bench" lifting from the floor, only occasionally using bench.My daughter's home gym (she coaches a handful of ladies) took part in the "Garage Gym" competition this past spring – each competed at their own place, took video and sent our bests of that day to them. It was a fun morning, but not a competition per se.
Do you have a coach or trainer? In person or online? How did you find your trainer/program? Do you have any advice for women looking for a trainer?
My oldest daughter is my coach. She is fantastic and enjoys the challenge my age, previous injuries and arthritis present to her in designing my program.My advice would be to find someone who understands injuries, rehab and can work around any issues to find another way to do something. I can't use regular squat bar, my shoulders won't allow my arms to hold the bar behind my head; she researched and found the safety squat bar which allows me to squat. Find someone who believes in the "do what you can" motto – not everyone will be able to do things the "normal" way; so they need to find other ways to do things.
Where do you train? Gym, garage?
"Garage gym" – actually right now my daughter's living room. They reno'd their house and we lost the large room that was her gym. We spent last winter digging down their basement another 4 feet (Saturdays I did my regular workout, then spent the next 3-5 hours shoveling dirt and clay onto conveyors!). The floor is about to be poured and in the new year we will move everything down to the new basement! The area is larger so the items that have been in storage will now be back for us to use.
What is the hardest part about beginning lifting as an older woman?
The hardest part is convincing people I really do lift that much! LOLI think starting as an older woman requires more dedication – we have more previous injuries and age related deterioration to have to work around and overcome. We will also have to adapt and not get frustrated if a previous injury or issue flares up.
How has lifting affected your health?
I started my journey while on four prescription medications – Rx for arthritis, Rx for stomach/ulcer from the arthritis Rx, Rx for Panic Attacks (random, not anxiety based) and Rx for blood pressure. I weighed 220 lbs. (I am 5′ 2″). I could not squat down more than a few inches. I had constant pain in my back and knees.Today I take no prescriptions and weight 137 lbs (or less, only weigh myself once a month or so). I have more stamina, my back no longer has any pain, my knees function normally, including one I had surgery on way back when I was 15 that never worked correctly until now.

I feel amazing – better than I have in over 30 years.
What would you tell women just beginning this journey?
Start today – find a gym; a good coach and just do it; don't delay!