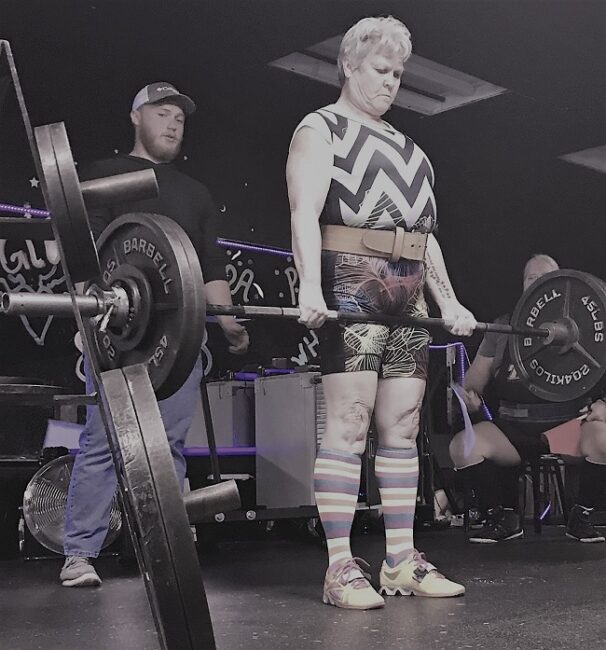 Weight Class
185lb; 82.5kg
Where do you live?
Ballwin, Missouri
Deadlift PR:
300lb; 136kg
Years lifting?
Lifting for 9 years; Competing for 8 years
How did you come to powerlifting or Olympic lifting?
I was working with my trainer in the gym and saw a guy doing a deadlift. I said to my trainer, "I think I can do that." The next training session . . . she had a bar set up and my powerlifting journey started. I started deadlift and bench press first and then introduced squatting about a year later.
Do you have any previous athletic or lifting experience?
When I was in high school, I used to lift with the football team after school, but that was over 40 years ago, so I guess you really can't say that is any sort of previous lifting experience!!
Do you compete? Why or why not? If you compete, what do you like most about the competitions?
Yes, I compete under the APA/WPA and SPF Powerlifting Federations and any other non-sanctioned event around my area. Mostly I compete because I love chasing goals. I am very competitive and getting stronger has given me more confidence.
Do you have a coach or trainer? In person or online? How did you find your trainer/program? Do you have any advice for women looking for a trainer?
I have a coach/trainer. I train in person 2-3 days a week depending on whether I am programming for a competition. I found my trainer through the gym where I used to work out. He was a personal trainer there. He later opened his own personal training facility and I followed him there. Advice for looking for a trainer . . . . find someone who matches your personality. If you are very serious while working out and training, find someone who doesn't joke around. Me . . . I need some laughter during my training so my trainer keeps me laughing but also keeps me working hard. Also, find someone who can tell you the "why" when your are lifting, not just the "what". By that, I mean, find a trainer who will explain to you why you are doing a particular movement and how it helps your body and lifting.
Where do you train? Gym, garage?
I train at a personal training facility.
What is the hardest part about beginning lifting as an older woman?
At the beginning, one thing that I found hard was sticking with it when the weight got heavier. Also, in the beginning, I had a hard time finding a trainer who didn't want to treat me as an "old lady".
How has lifting affected your health?
Lifting has definitely affected my health . . . in a good way!!! I sleep better; I have gotten much stronger; more confidence, which betters my health all around; I had major back surgery about 10 years ago; L4/L5 spine fused together. Before lifting, I had a lot of localized back pain. With proper lifting technique, my back pain is almost non-existent.
What would you tell women just beginning this journey?
Don't let anyone tell you, you can't do it. Stick with it, even on the bad days . . . when I am feeling bad and not really "in to it", I go to the gym and lift anyway. Usually, I feel much better afterwards! Believe in yourself. If you can, find a trainer or a coach who also believes in you. Listen to your body, if something doesn't feel right, stop doing what you are doing and evaluate, then adjust accordingly. But most of all, HAVE FUN!!